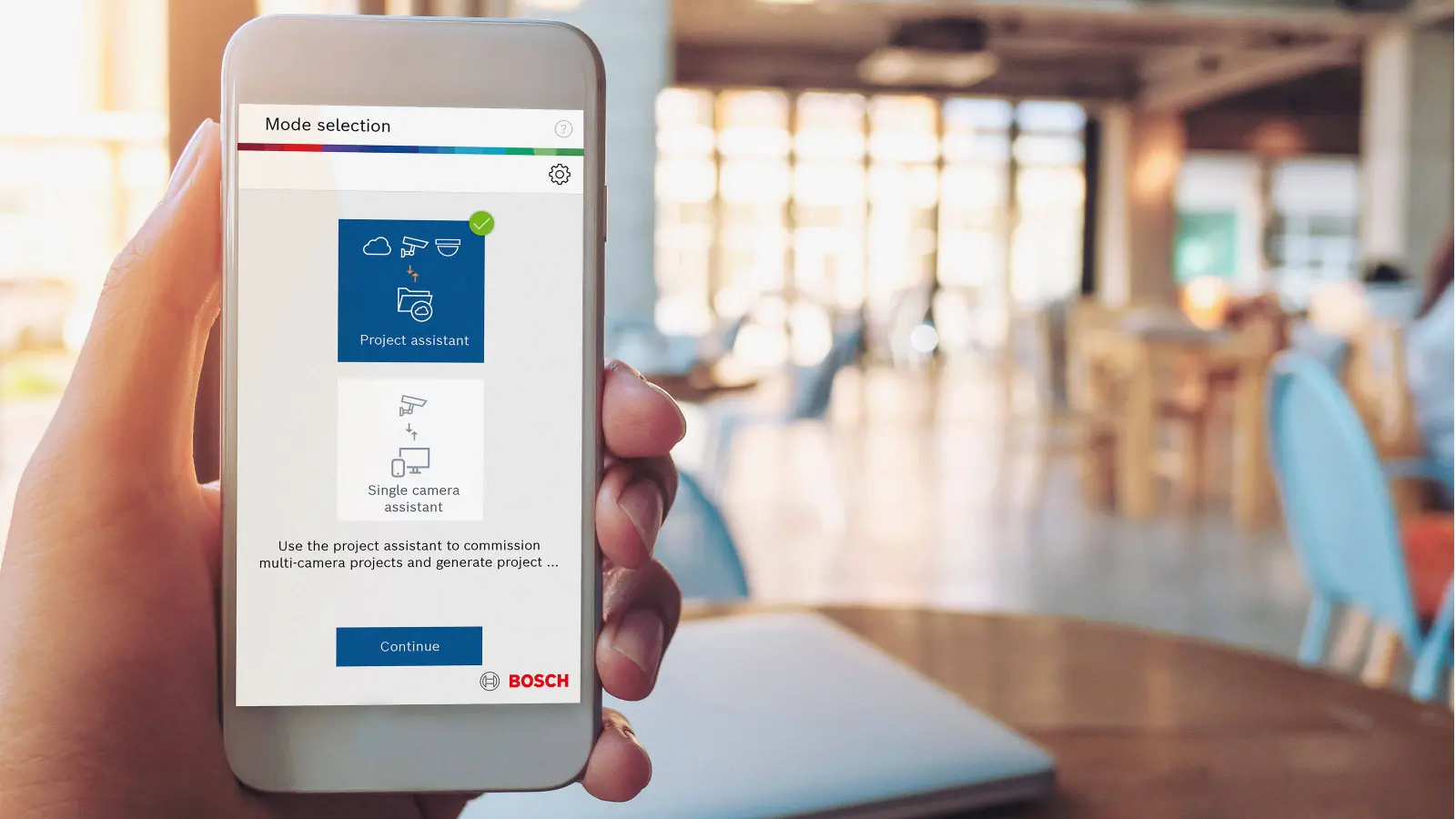 Het in goede banen leiden van een videobeveiligingsproject kan een tijdrovende bezigheid zijn
Voor de planning, configuratie, installatie en rapportage van een videobeveiligingsproject zijn meerdere tools nodig. Daarnaast neemt de voltooiing en documentatie van het proces veel werkuren in beslag. Daarom is het moeilijk voor systeemintegrators om de verschillende projecten over de verschillende fasen te beheren. Daar komt nog bij het vooraf configureren van de camera's, de toewijzing van IP-adressen en veilige wachtwoorden, installaties, configuraties op locaties, de interne statusafstemming met het projectteam en de rapportage aan klanten. Het is dan ook geen verrassing dat zich fouten, beschadigingen en communicatiestoornissen kunnen voordoen. Dit alles brengt extra tijd en kosten met zich mee voor een project, hetgeen de klanttevredenheid in gevaar kan brengen.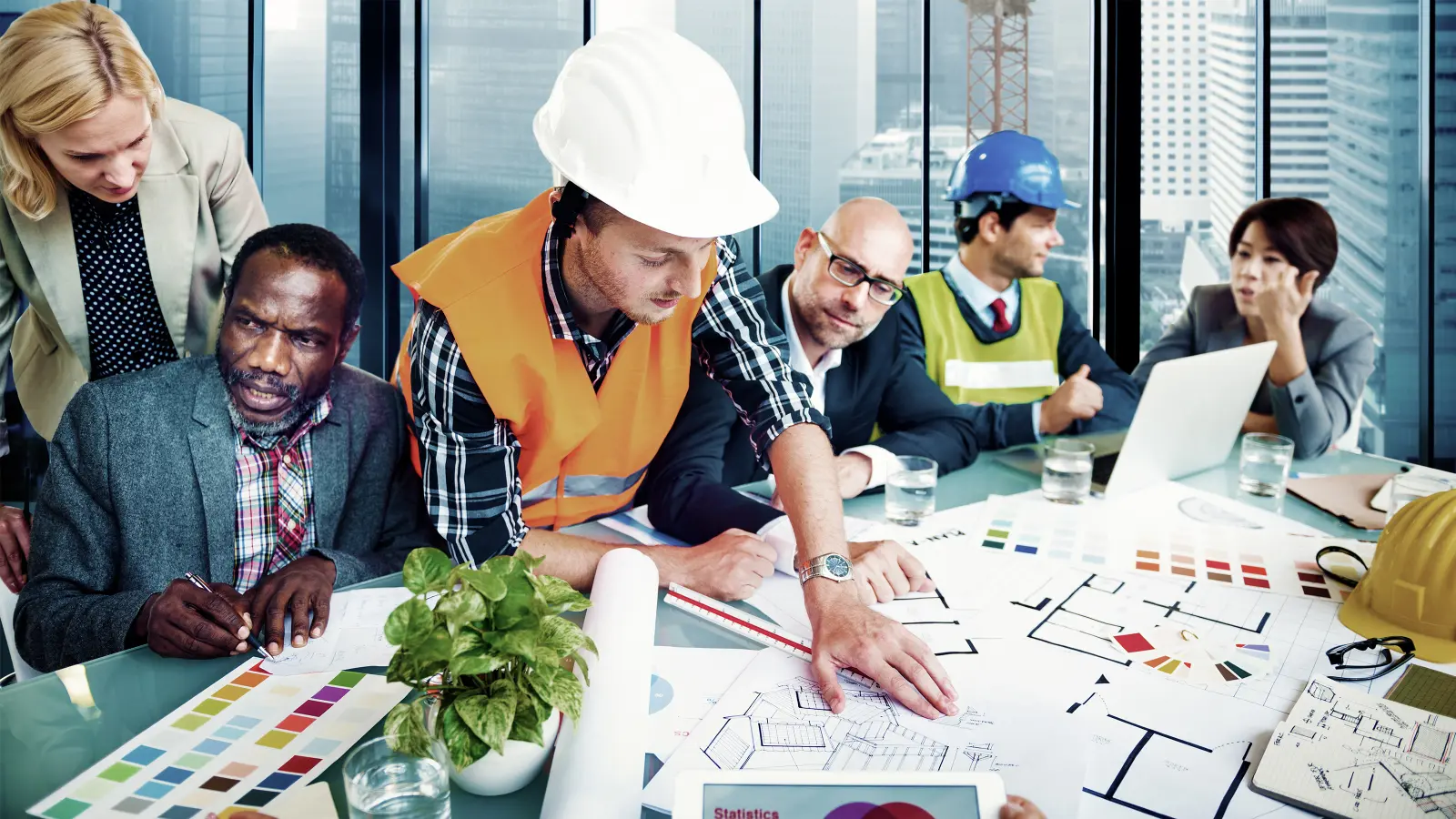 Deze taak is nu heel eenvoudig geworden door een zeer slimme app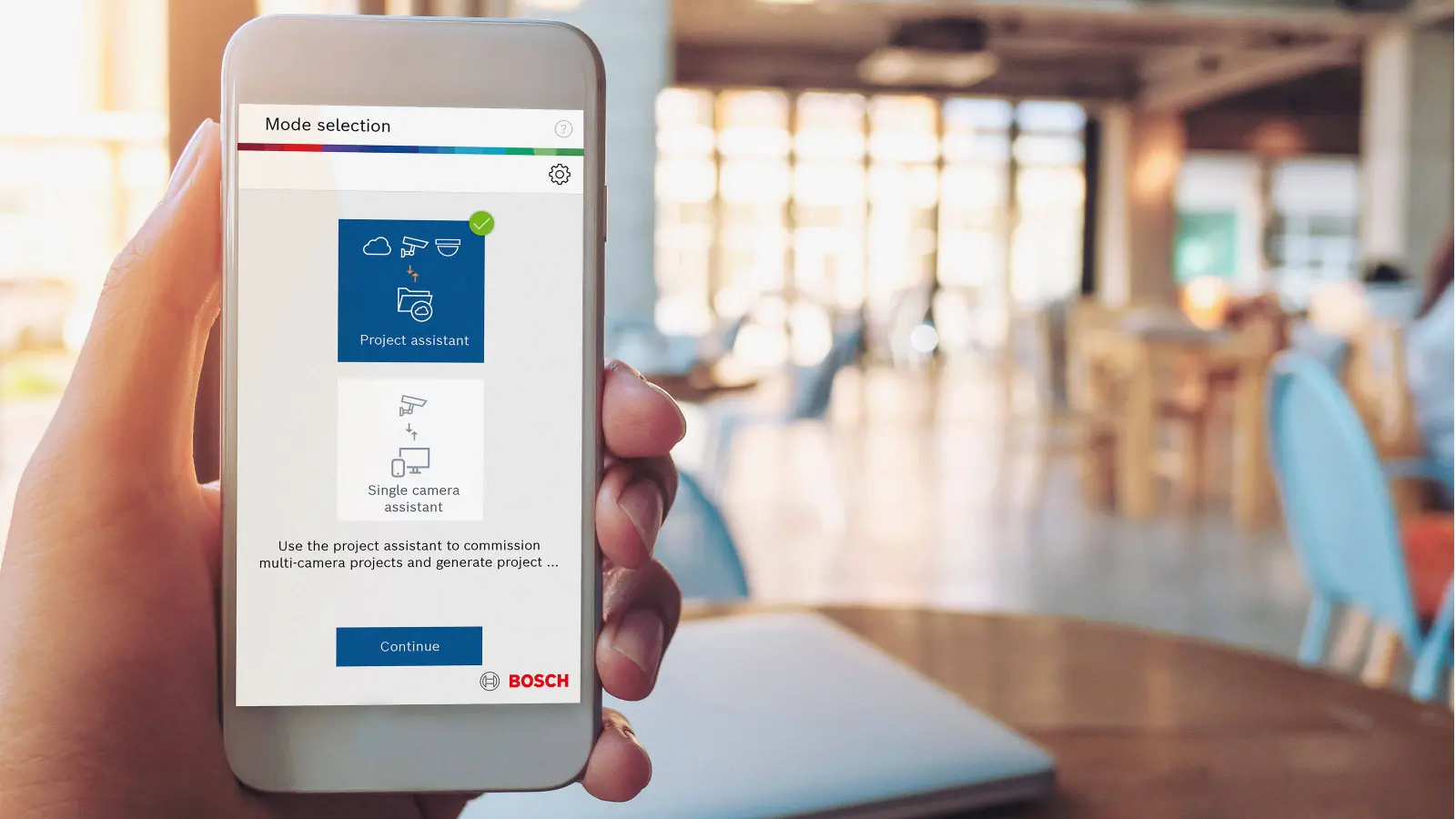 De Project Assistant-app, die is ontworpen en ontwikkeld door Bosch Building Technologies, kan gratis worden gedownload vanaf verschillende App Stores voor installatie op desktop, tablet of smartphone en werkt op de Apple-, Windows- en Google-platformen. Wij wilden de app voor iedereen toegankelijk maken, omdat iedereen in elke fase van een videobeveiligingsproject zou moeten kunnen profiteren van de controle, transparantie en efficiëntie die de Project Assistant-app mogelijk maakt.
Het instellen en vooraf configureren van het project kan nu in het kantoor beginnen zonder een fysieke camera. De systeemintegrator heeft enkel de projectplannen, IP-adressen en een wachtwoord van de cliënt nodig om een nieuw project op te zetten via de app (of een met Excel compatibele bestandsindeling), waarbij hij ervoor kan kiezen het project per camera of voor meerdere camera's tegelijk in te stellen.
Een efficiënter project dankzij een proces van eliminatie
De Project Assistant kan automatisch voor elke camera de informatie invoeren in het project waardoor kostbare tijd wordt bespaard. Meer gegevens zoals de naam en locatie van de camera kunnen ook via de app worden toegevoegd zonder dat hiervoor camera's fysiek aanwezig hoeven te zijn. Binnen de app kunnen virtuele camera's worden gecreëerd waardoor producten niet langer hoeven worden uitgepakt en weer ingepakt in het kantoor van de systeemintegrator om deze te labelen en vooraf te configureren. Dit bespaart tot wel 30% in tijd.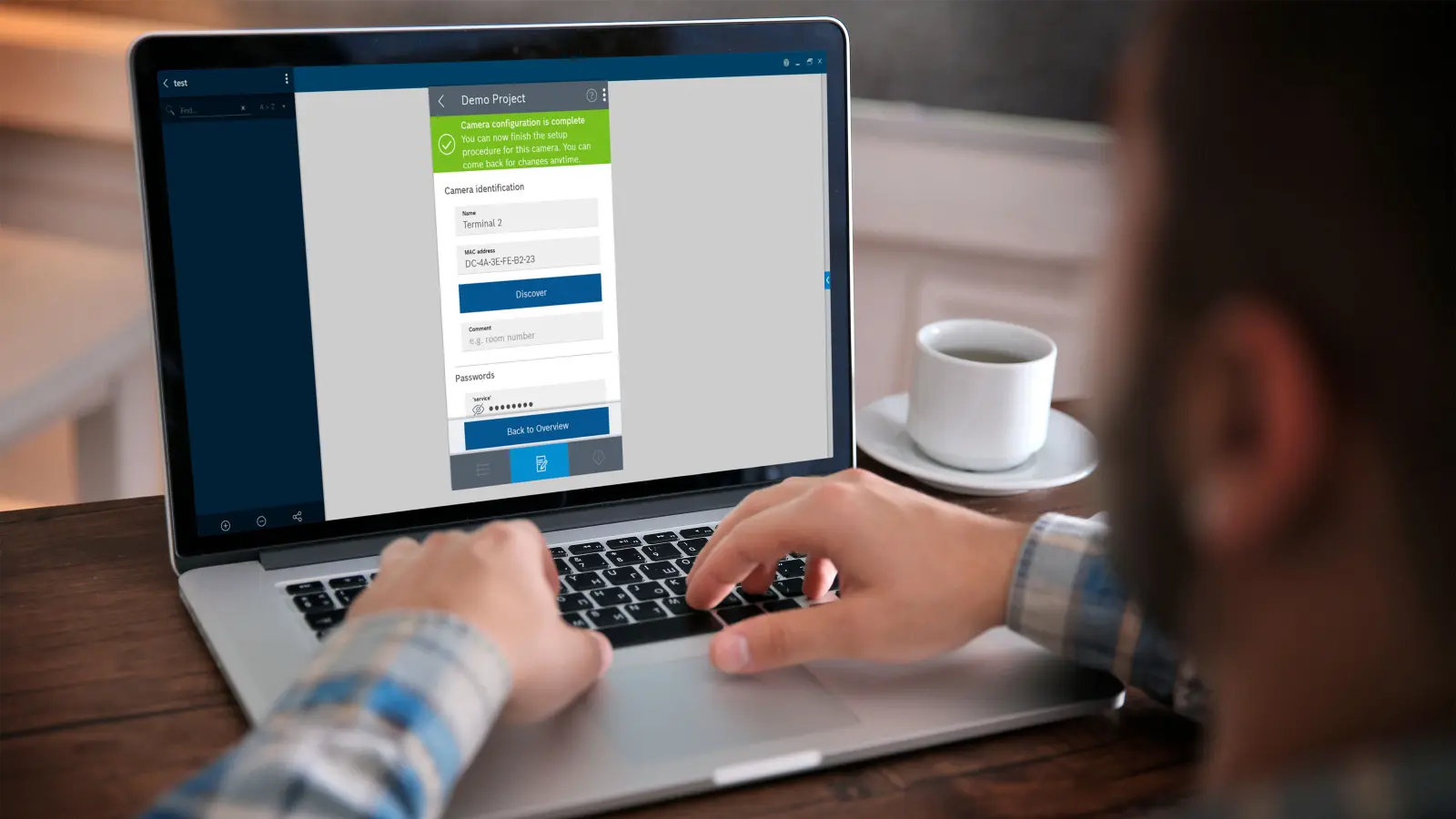 Virtuele camera's in real-time koppelen aan echte camera's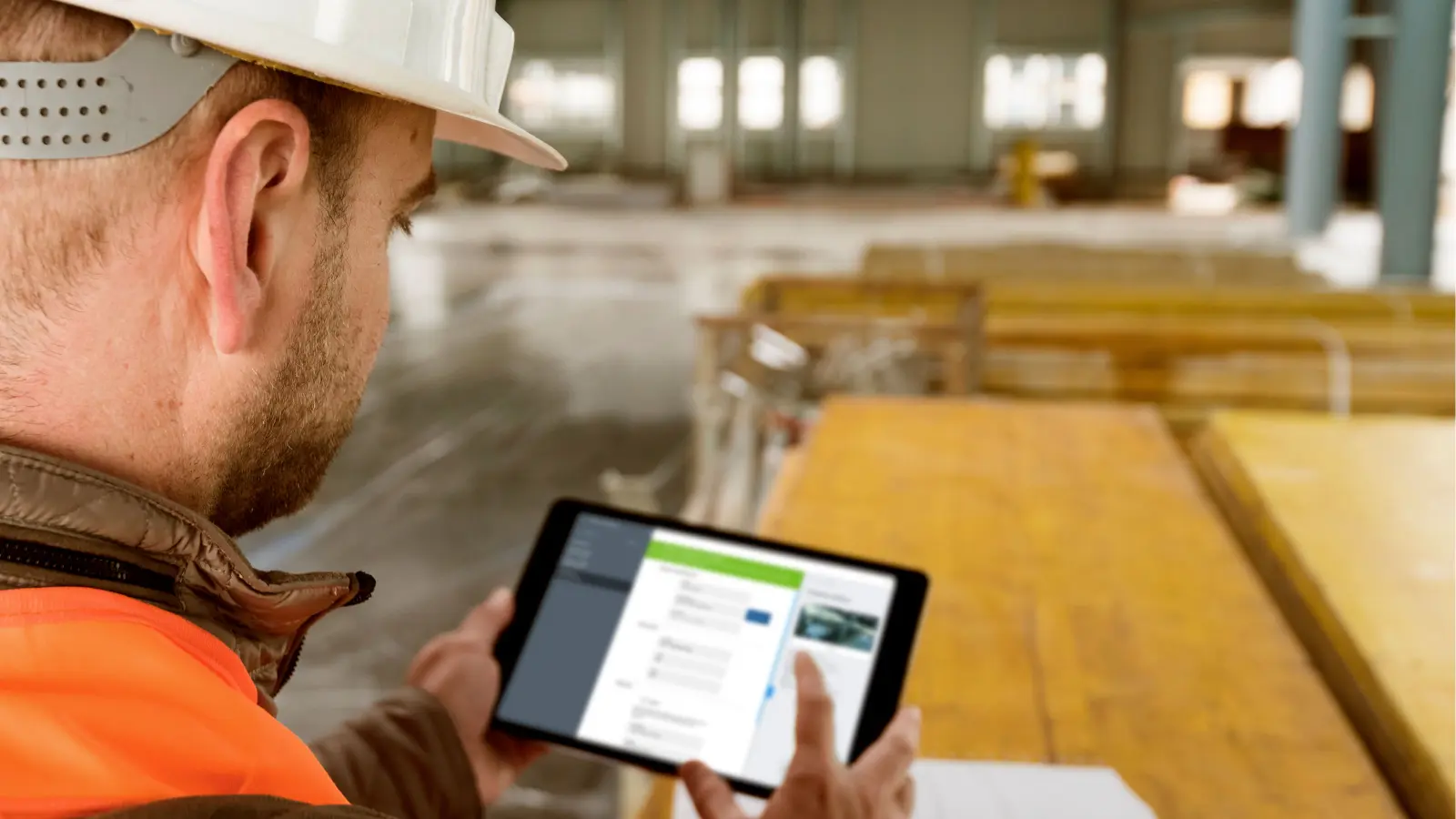 Zodra de camera's fysiek op locatie zijn geïnstalleerd en met een netwerk zijn verbonden, kunnen ze worden gekoppeld aan de virtuele camera's die zijn ingesteld in de Project Assistant-app (via Wi-Fi of kabelverbinding met hetzelfde netwerk). U hoeft alleen een QR-code te scannen op de cameraverpakking, op de buitenkant van de Bosch camera of op het vel met stickers in de doos. Hiermee wordt het MAC-adres van de camera geïdentificeerd en toegewezen aan een specifieke virtuele camera in de app. Hierdoor worden de vooraf gedefinieerde instellingen die al in de Project Assistant-app zijn ingesteld, meteen naar de camera geschreven. Zodra de vooraf gedefinieerde instellingen zijn geüpload, kan de systeemintegrator het gezichtsveld instellen, de beeldscherpte aanpassen en eventueel benodigde andere camera-instellingen toepassen.
De voordelen van projecttransparantie zijn duidelijk
De Project Assistant-app is niet alleen ontworpen om de beheerders van een videobeveiligingsproject stapsgewijs te ondersteunen. Ook wordt het maken van een eindrapport makkelijker, want met elke camera in het project kan contact worden gemaakt, elke camera kan worden gecontroleerd en binnen enkele seconden kan er worden gerapporteerd. Vervolgens wordt aan de cliënt een kant-en-klaar rapport geleverd met momentopnamen van het gezichtsveld. Ook kunnen de verschillende projecten die in de app zijn ingesteld via de cloud worden gedeeld met meerdere belanghebbenden. Zo beschikken ze over connectiviteit en transparantie, en heeft iedereen op elk moment toegang tot een duidelijk, gedetailleerd overzicht van de projectstatus.
De Bosch Project Assistant-app zorgt ervoor dat het plannen, vooraf configureren, uitvoeren en rapporteren van projecten efficiënter verloopt, waardoor elk videoproject sneller, beter beheerbaar en transparanter is. Het is de slimme manier om een videobeveiligingsproject te plannen.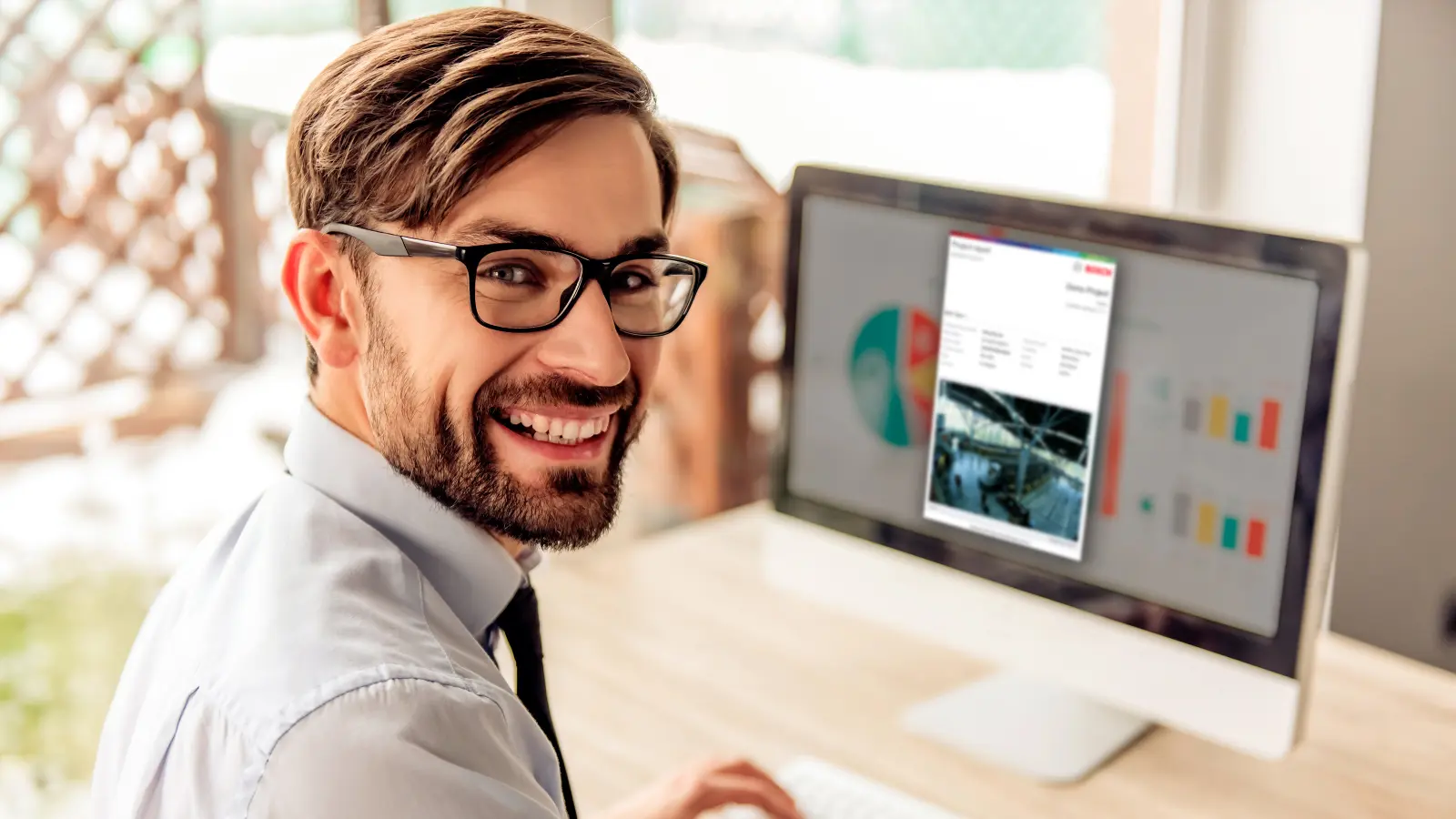 De gratis Project Assistant-app van Bosch biedt systeemintegrators een compleet overzicht van hun project met videobeveiligingscamera's, voor een efficiënter, transparanter en toegankelijker verloop van de planning, configuratie vooraf, ingebruikname en rapportage. En doordat u tot 30% minder tijd nodig hebt voor uw project, is het nog een stuk efficiënter ook.
Snelle videohandleidingen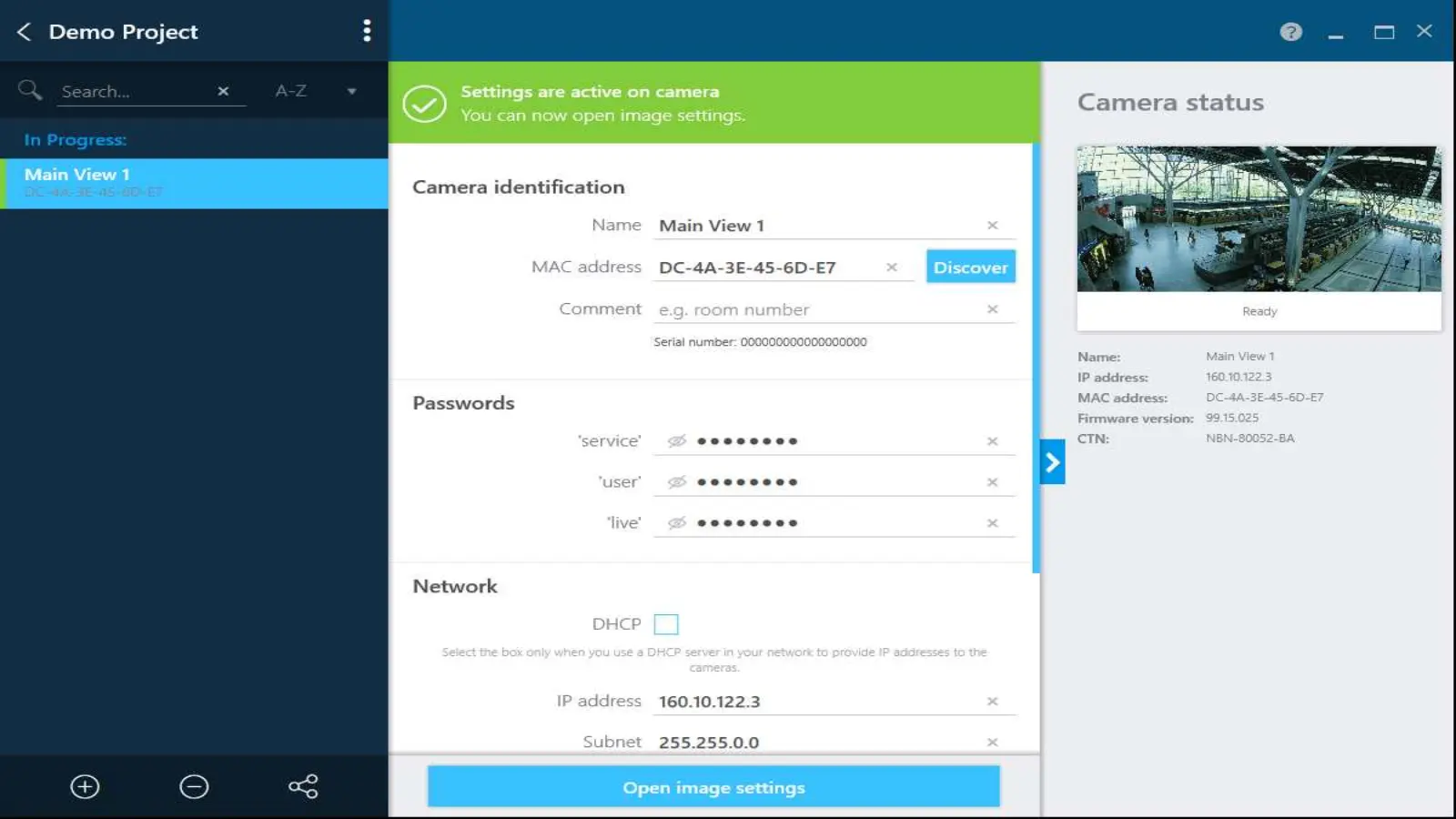 Wanneer u aan de slag gaat met Project Assistant, hebt u wellicht vragen. Om deze te beantwoorden hebben we enkele korte clips gemaakt om u door de eerste stappen voor het instellen van de Project Assistant te leiden. De video's leiden u door de 5 belangrijkste stappen voor het instellen van een project in de app. Hiermee worden uw aanvankelijke vragen beantwoord. We laten u zien hoe u alle bewerkingen uitvoert in de Project Assistant: het maken van een project, het verbinden van het project met de cloud, het toevoegen van camera's en het afstellen van de instellingen, het voltooien van het project en het exporteren van het rapport.