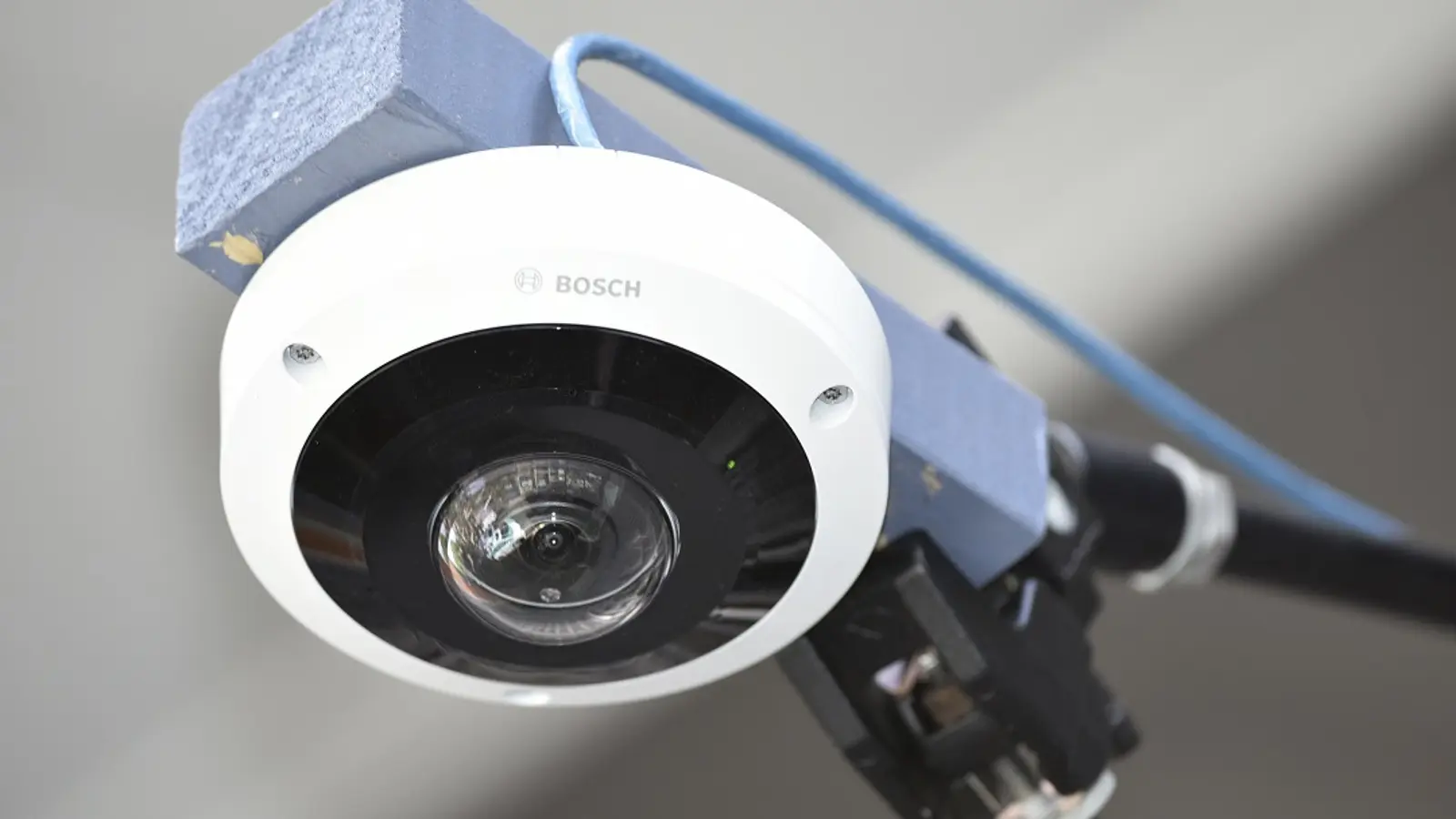 Test driving the Bosch 5100i IR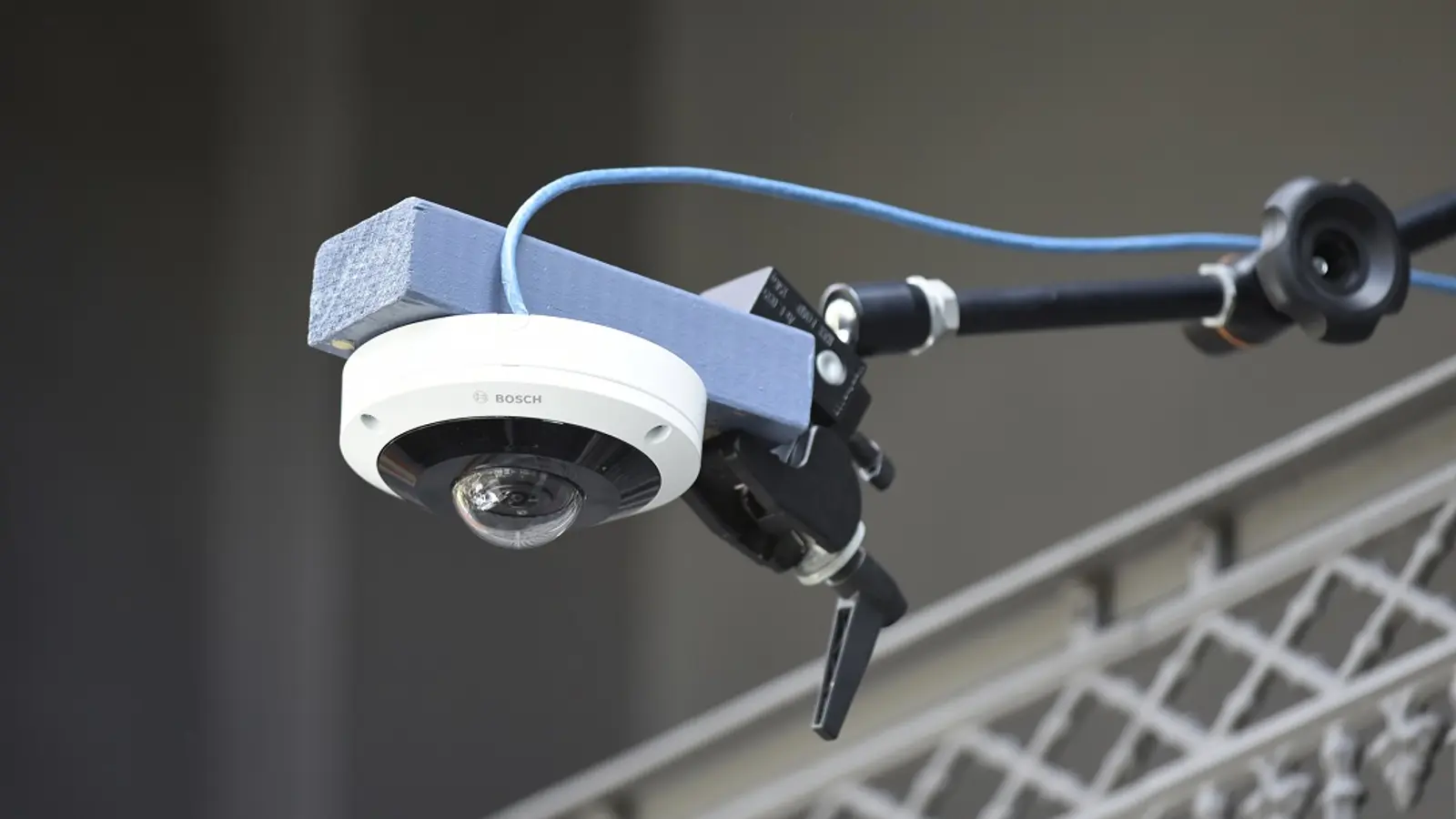 The Bosch 5100 IR panoramic camera is a robust external fisheye camera made of cast aluminium and poly – it's compact enough for discretion, and while it feels solid, it's not too heavy. The camera is easy to set up on SEN's test network. Once I get the camera out front of the office on the Magic Arm, it's clear this Bosch 5100i IR has a stupendous angle of view, giving staggering levels of situational awareness. The panoramic display covers the street from end to end, as well as encompassing the front of the office, the nearby buildings on this side of the street, and looking over to the 4th story of the building opposite.
One of the nice things about all Bosch cameras is their intelligent analytics. I really like the orange outline placed around moving objects and the green line indicating direction of travel. Sitting at a workstation these indicators quickly become intuitive when you're scanning an image – later I'm pleased to find it works just as well in low light.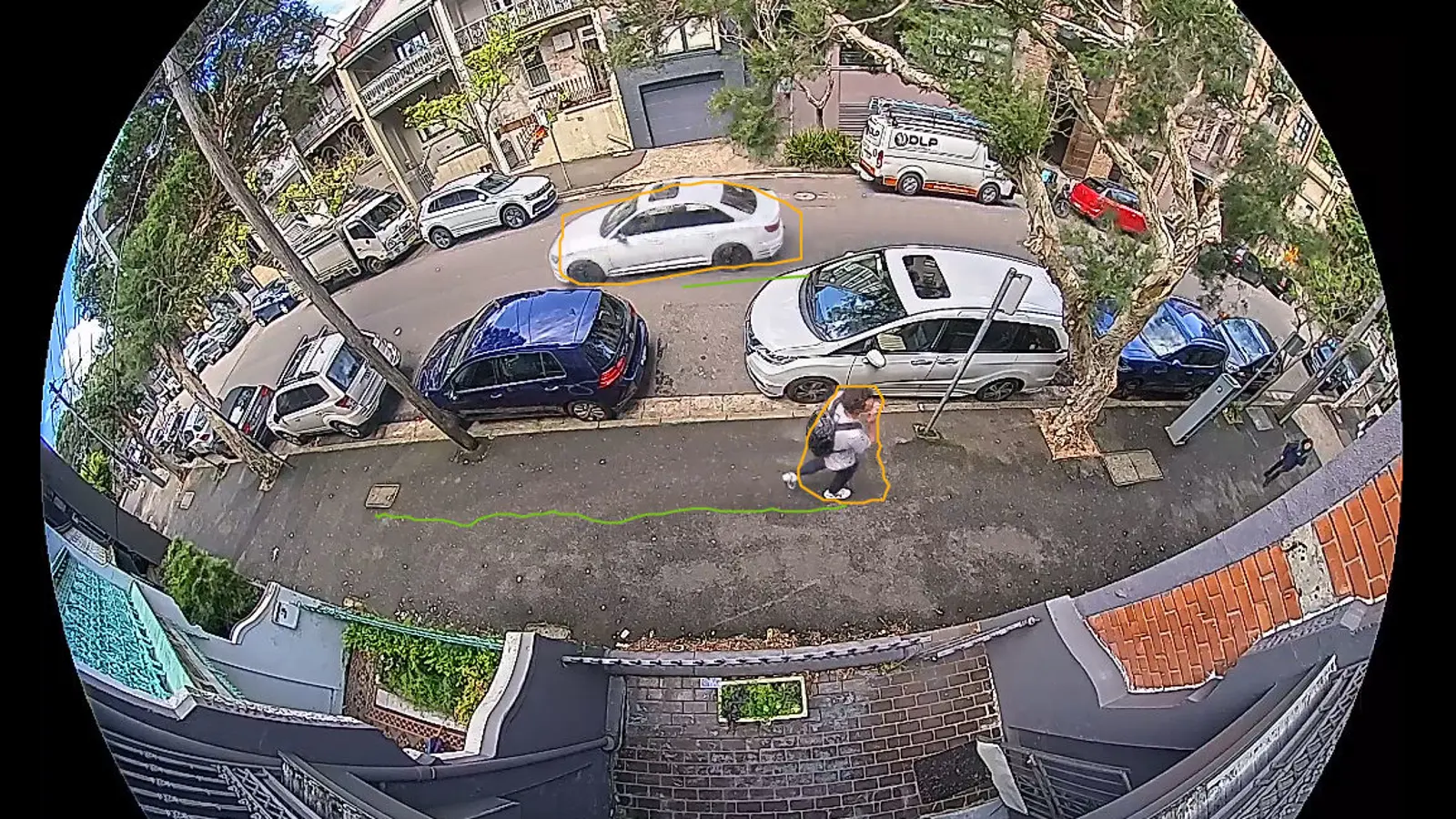 Robust situational awareness
We've pointed this out before when testing panoramic cameras but it's impossible not to highlight it again – you just don't miss anything across a scene when it comes to situational awareness with the Bosch 5100 IR. I'm able to view some one approach the front door of the office, while workers sit outside the house directly opposite, a person goes into a diagonally opposite apartment building, a vehicle comes up the road at one end, another goes down the road at the other, and another vehicle fudges reverse parking 30 metres up on my side, and I count 4 separate pedestrian interactions – all in the 1 image.
I test the camera after dark – it's sub 2 lux under the lens. I'm not sure what to expect from the 5100 IR 6MP in low light but as soon as I sit down at my workstation, I can see the camera is doing a great job scrounging reflectance from streetlamps and windows. Even though the sky is dark, it's contriving to show blue-grey and throughout the scene there's loads of detail. There's some amplification noise in this image but whatever the camera engine is doing, it's working.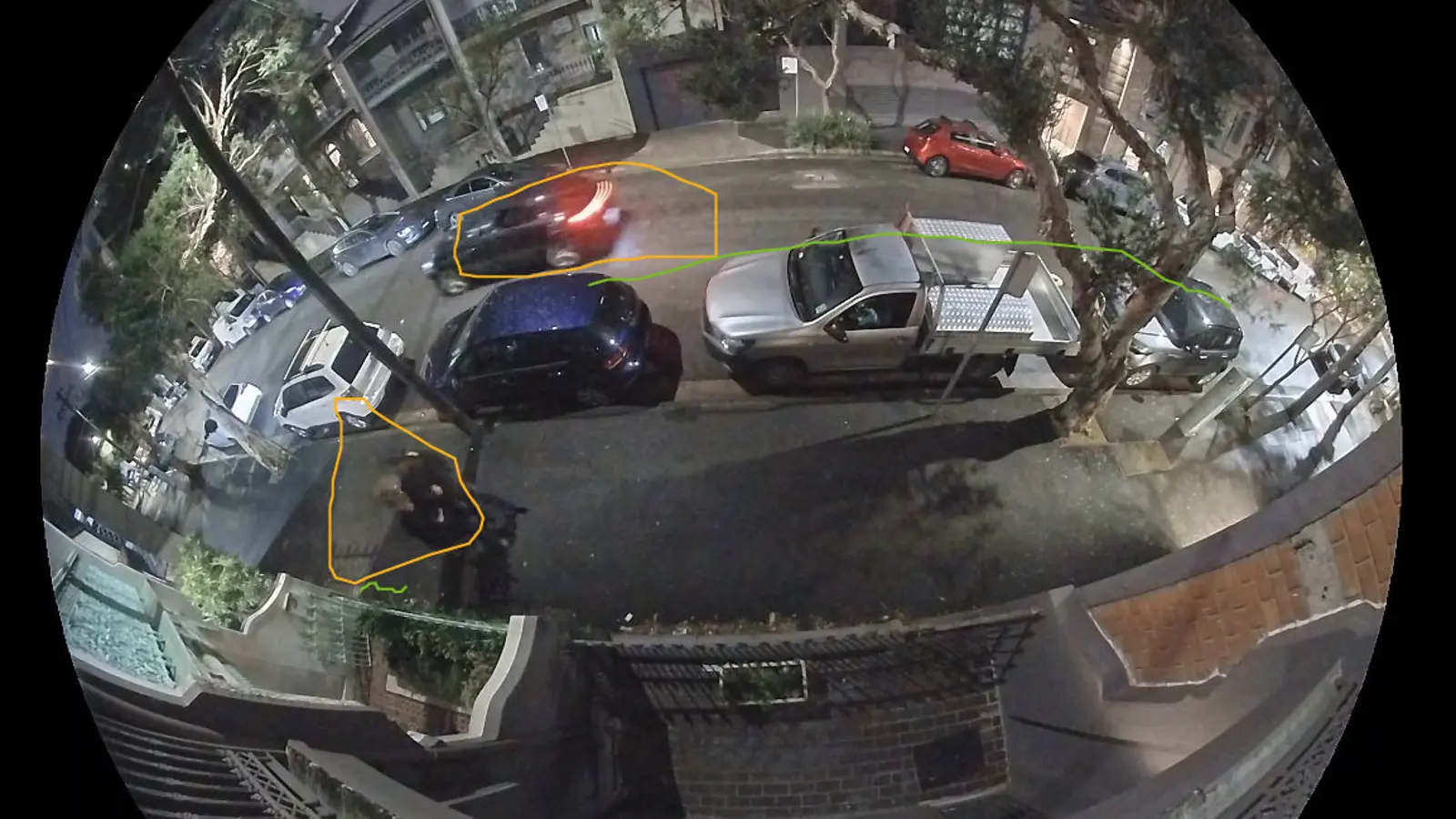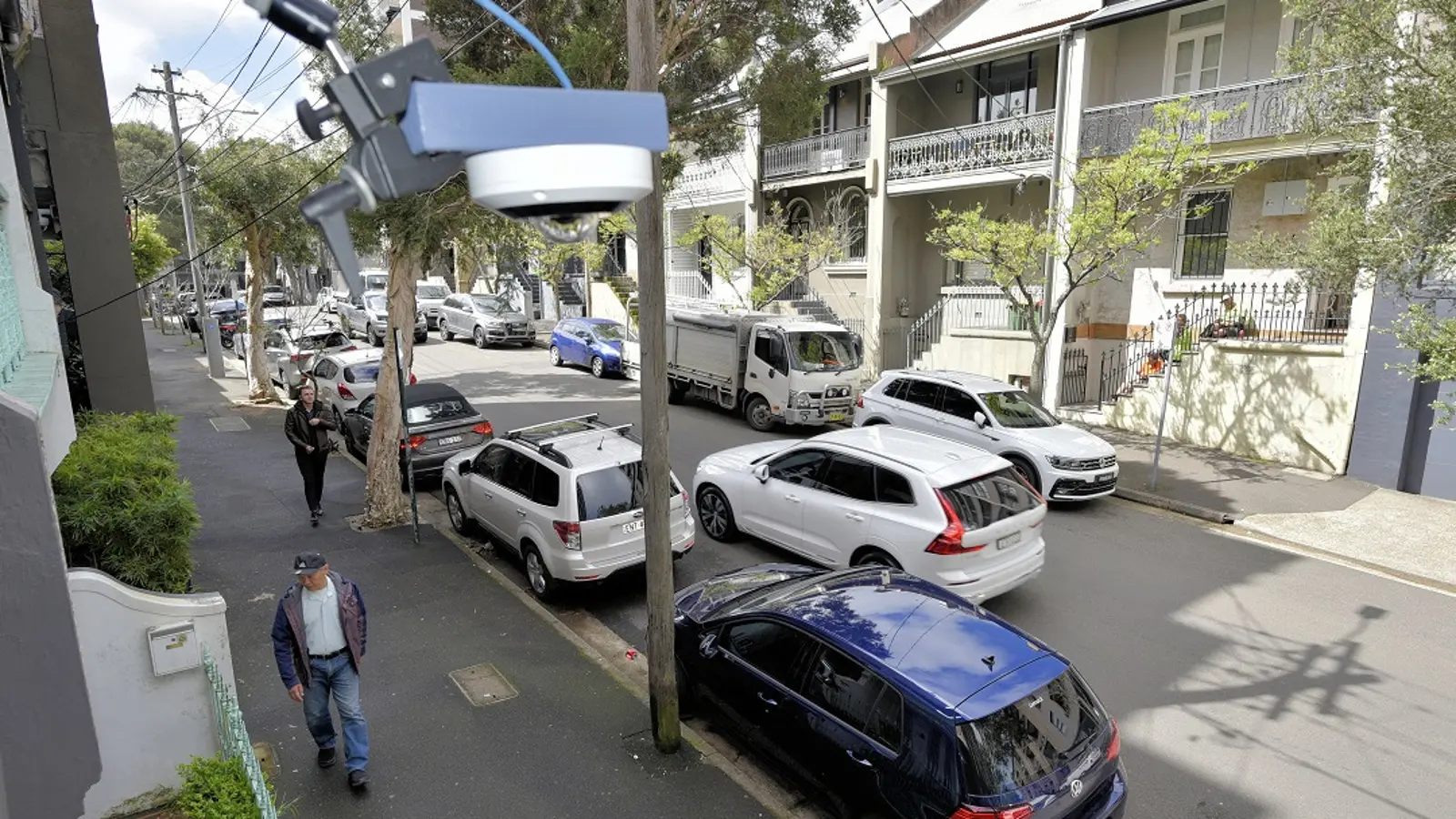 The big thing with this camera is its massive angle of view – an angle of view that our 180-degree street scene doesn't adequately reveal. I used the phrase 'optical omniscience' to describe the characteristics of the 5100 IR earlier, and this observation remains valid at the end of our test. As well as offering coverage of everything in complex scenes to a reasonable depth, the 5100 IR would excel on building corners and when pendant-mounted in spaces demanding saturation coverage in all directions.