Intrusion Alarm Systems
We've got you covered. Our intrusion alarm systems are the best at catching intruders with freedom from annoying false alarms. It's like nothing really happens.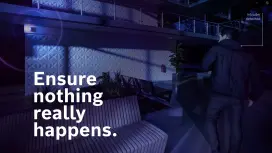 Security you can trust. Detection you can depend on.
Keeping the wrong people out is the goal of every security system. But when your facility is at risk, you want to know that your intrusion system will perform. Bosch delivers the most flexible and reliable intrusion products. With detectors that make the correct decision every time to highly capable systems with the flexibility to meet different requirements, Bosch helps to protect properties, assets and most importantly, people. We maximize peace of mind. So whatever happens, nothing really happens.
Expert service and support
We can support your business with application advice and specialized technical support. Our international network of integration and product experts are available for your questions and challenges. For instance when you need advice on integrating different systems, what components you should consider or to find out what the most cost-effective solution is for your project.
Next to that, we offer extensive training opportunities via the Bosch Building Technologies Academy, so you can become an expert yourself.
If you would like to find out more, or want to know how we can help you with your intrusion alarm needs, please do not hesitate to contact our sales representative(s).
If you would like us to contact you about our solutions, please fill in the form below.
What is important to consider when choosing an intrusion alarm system?
An intrusion alarm system should be reliable, fast in detecting intruders and not cause false alarms. It should also have the ability to be monitored by central station receivers, be easy to use for the end user and allow integration with other systems.
What types of intrusion alarm solutions does Bosch offer?
We offer a wide range of intrusion alarm solutions from control panels, motion detectors, sensors, wireless devices to alarm communication. You can find our intrusion alarm systems products in our online product catalog.
Why Bosch motion detectors have such a good false alarm immunity?
Our detectors have best-in-class false alarm immunity through a combination of high quality optics, advanced patented signal processing, state-of-the-art mechanical designs including sealed optical chambers and reliable components.
Does Bosch offer wireless intrusion alarm systems?
Yes, we offer a portfolio of wireless devices which seamlessly integrate with Bosch control panels.
What are the advantages of Bosch wireless intrusion alarm systems?
Our wireless intrusion alarm systems offer a superior range and reliability, have an average of 5 years battery life, simplified installation and have the ability to use repeaters to get more wireless coverage.
Can arming and disarming of a Bosch intrusion alarm system be controlled via a mobile app?
Yes, we have several systems where arming and disarming can be controlled via a mobile app.
How scalable are Bosch intrusion alarm systems? Is it easy to add more hardware if needed?
Our intrusion alarm systems are very scalable. It is easy to add more hardware such as input and output expander, communication modules, wireless sensors, keypads and readers at any point in time.
Where can I buy Bosch intrusion alarm systems?
You can buy our intrusion alarm products from specialized dealers and distributors, or become a direct customer from a certain value upwards. You can find the addresses of our dealers with the Bosch dealer locator.
How long will the warranty be for my intrusion alarm system?
Most Bosch Security and Safety products come with at least 3 years manufacturer warranty, which can go up to even 8 years for some motion detectors.
Does an installer need to have training to install Bosch intrusion alarm systems?
It is not required, however highly recommended to follow our free online trainings via the Bosch Academy. Our trainings are designed to help you install and run complex projects faster, smoother and more profitably. Next to that, we offer classroom trainings that go more into depth.
What can I do if I have trouble setting up a Bosch intrusion alarm system?
If you purchased the system via a specialized distributor, please contact their customer support. Direct Bosch customers only can consult our expert technical support team via email, in this document you will find the right e-mail address for your region.
Can Bosch intrusion alarm systems be integrated with other security systems?
Where can I find all the certifications for Bosch products?
You can find the certifications in the technical product information, i.e. data sheets, which you can all find in our online product catalog.