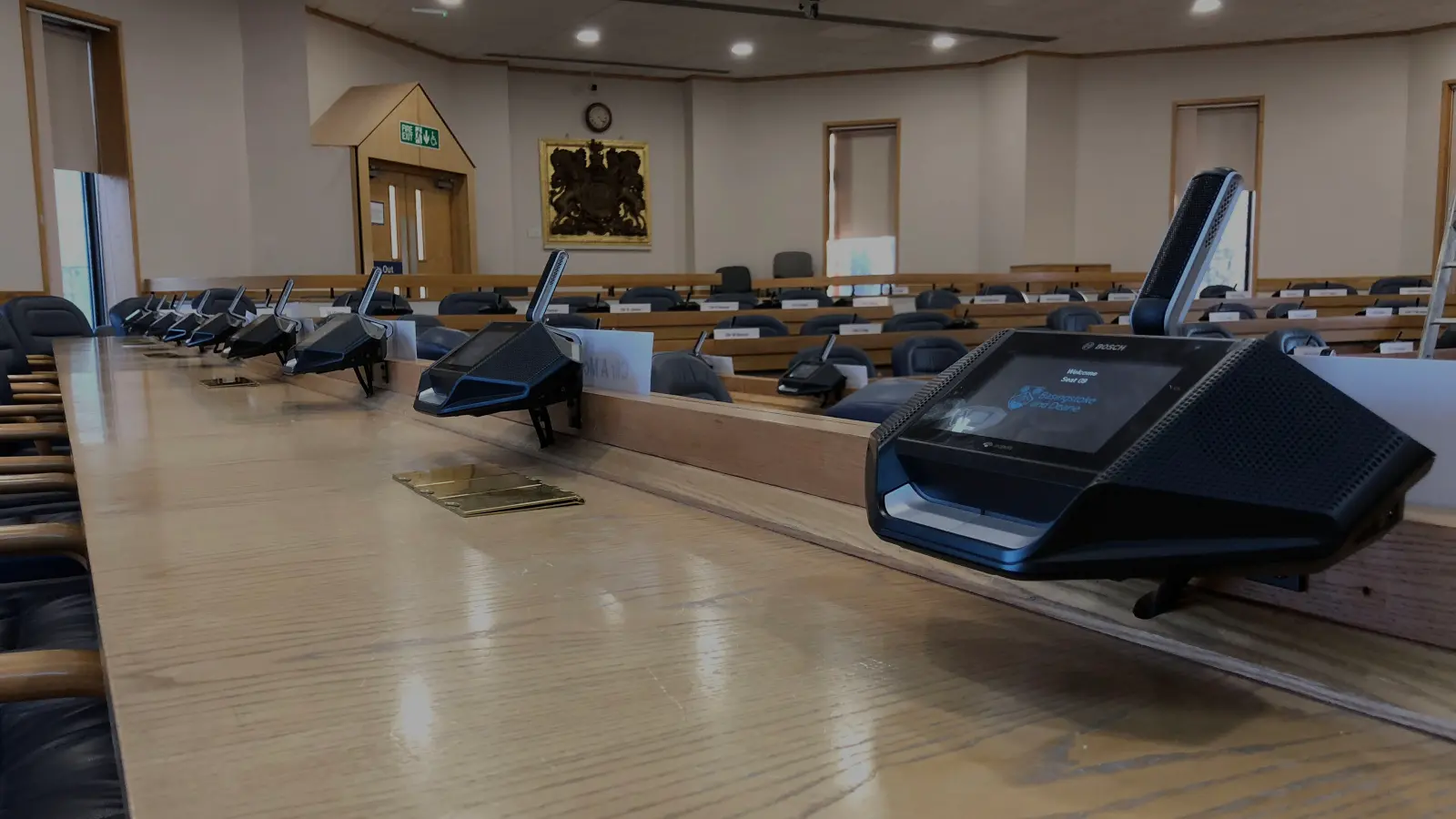 Located in the South East of England, Basingstoke and Deane is a local government district and borough in the county of Hampshire. With Basingstoke as its largest town, the area is known for family-friendly living and is home to over 175,000 people. Basingstoke and Deane Borough Council consists of 60 elected members who discuss local politics, municipal budgets and taxes at regular meetings. For full transparency with the members of their constituency, the council streams live video of all its meetings, including public votes, on their YouTube channel.
Since the installation, the new DICENTIS system has supported a seamless and transparent democratic process at Basingstoke and Deane Borough Council.
Behind the scenes, via the third-party MVI Engineering application, the system automatically upgrades to the latest software versions. These centralized updates save time and operating costs. With the potential to increase the system's functionality and size in the upcoming years, the council has a future-proof and expandable conference solution from Bosch, which already supplies around 50 percent of councils in the United Kingdom and Ireland.
The system includes 63 DICENTIS Discussion devices with touchscreens (to support the required voting and identification capabilities for council members), nine DICENTIS discussion-only devices for guest speakers, and automatic camera control software. All the discussion devices are mounted on raised brackets to maximize desk space and are equipped with high directive microphones to deliver crystal-clear audio.
Council members have the freedom to sit at any seat in the meeting room, as the system automatically registers their presence at a specific location thanks to the NFC (Near Field Communication) card registration on the discussion devices. When a speaker activates its microphone, the system's automatic camera control points the camera towards their location, zooming in and displaying their image on the big screen.
MVI Engineering, expert in creating conference software solutions worked together with VP Bastion to create a webcasting and conference control software package that was integrated with the DICENTIS system. This solution helped to fulfill all the Borough Council's requirements, including report generation via live image feed and identification by name and party affiliation on the council's YouTube channel. In addition to displaying the DICENTIS-enabled voting results on the council chamber's big screen, it is now possible to share the voting results on the YouTube Live feed.