Detect elevated skin temperature
Over the past decade, security cameras have evolved from mere image capturing devices into complex data sensors. They provide valuable data that can be analyzed and used in beneficial ways that are becoming the norm. Recent developments, like COVID-19, have shown that data is becoming even more important. Customers ask for actionable insights that enable them to take the right measures to safeguard people's health. Since 2016, Bosch consistently pursues a data-driven approach by offering video analytics, a form of artificial intelligence, as built-in standard. This strategy and software competence together with our ability to build high quality hardware platforms has helped us to swiftly develop a smart solution that detects elevated skin temperatures: a Human Skin Temperature Detection solution.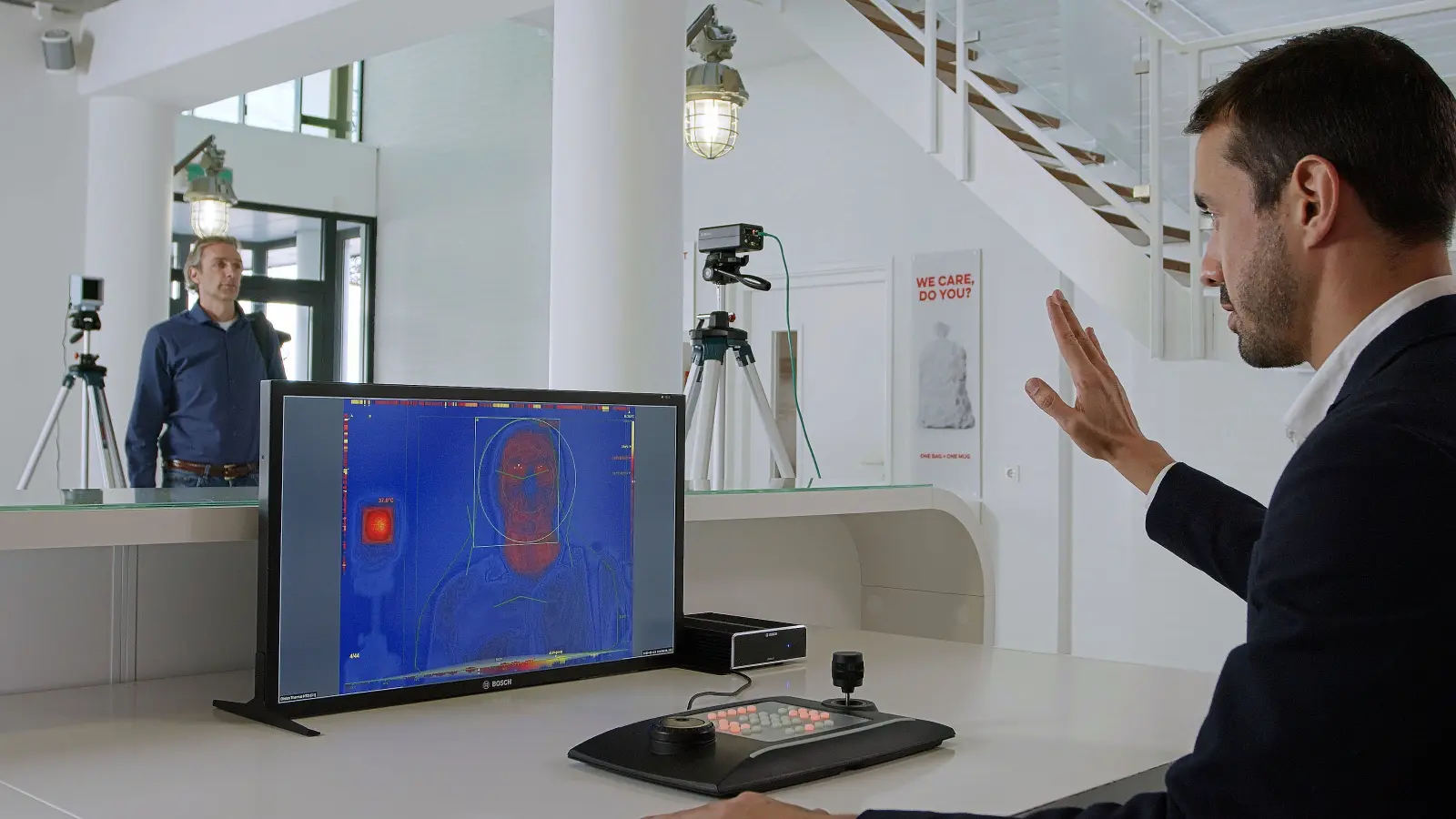 This smart solution has the main purpose to identify people with an elevated skin temperature with high confidence. It makes use of the DINION IP thermal 9000 RM camera. This is a thermal indoor camera that's able to measure human skin temperature at a range between 2.5 to 4.5 meters. Along with the camera, the system consists of a smart decoder which captures thermal data thanks to the installed software (VIDEOJET decoder 7000), a temperature reference device (a so-called "blackbody") and a keyboard to go through historical alarms.
In order to detect possible deviation in skin temperature, the decoder and the camera combine their strengths: the built-in Intelligent Video Analytics is able to detect faces and makes the solution capable of measuring the hottest spots on the face. The temperature reference device is utilized to compensate for the potential temperature differences caused by a variety of factors, helping to execute a more accurate skin temperature measurement.
In addition to this, the system has an intuitive interface, with helpful features such as temperature alarms, giving an alert when a person exceeds the temperature threshold, temperature histograms to get a visual overview of historical data, quick snapshot replay to scroll back in time to points of interest when necessary and unique threshold configuration profiles.
Threshold configuration - three unique profiles
The threshold configuration is a unique asset of this solution as it offers the choice between three system profiles: an absolute alarm threshold, a relative alarm threshold and an automatic alarm threshold. The absolute threshold profile measures the absolute skin temperature of the hottest spots on the face where the operator has setup an alarm based on an absolute temperature. This is mainly suitable for an application where people are coming from a controlled environment. In each profile, operators can use an automatic or a manual face detection mode.
With the relative alarm threshold, the setup of the alarm temperature is based on a reference of ten healthy people. The operator can setup an alarm based on the average temperature of a person plus x degree °C / F. It is most suitable for applications where skin temperature may differ due to environmental conditions.
The third profile, automatic alarm threshold, provides an alarm whenever the skin temperature is within a configurable fraction (alarm ratio) of the hottest previously observed values. To do this, the first ten people are needed for statistical calculation. An operator uses the statistical ratio of healthy versus unhealthy population to setup the alarm. It is the right choice for applications where large numbers of people need to be scanned on a daily basis.
Because the solution operates touch-less within a range of 2.5 to 4.5 meters it's considered to be a safe solution. This is especially useful for applications where people have to pass through a control or checkpoint, which are often seen at airports, commercial buildings or manufacturing plants.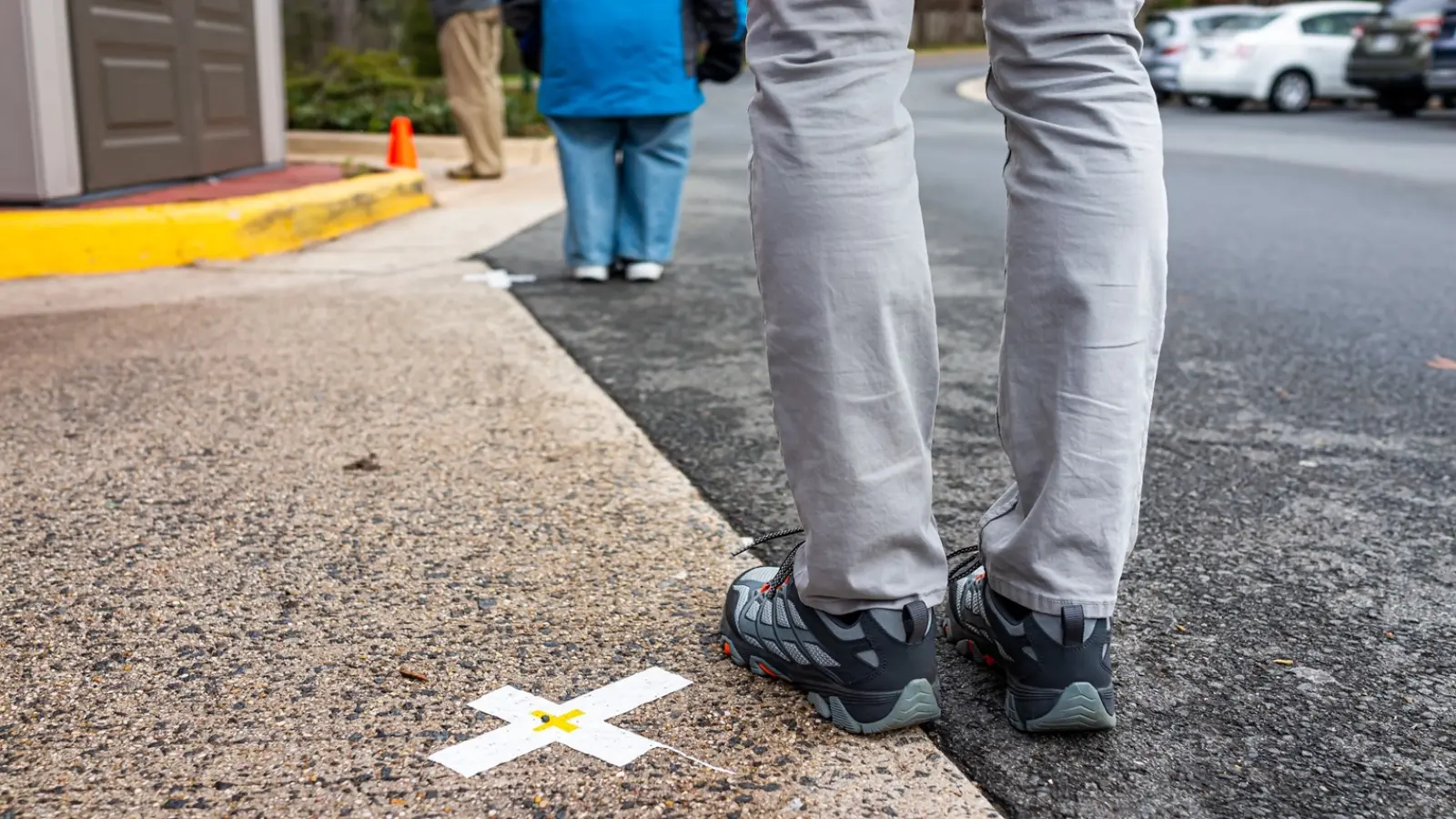 The solution is GDPR compliant, however, it depends on the mode that's being used: the operator-based mode or public self-service mode. With the operator mode, an operator checks the results from each measurement. The public self-service mode will cover the person's face and hide the absolute temperature date on the screen.
Another important aspect to keep in mind is that the complete system offers skin temperature detection in a cooperative mode. This means that, for example, the person needs to face the camera in an exact way and preferably without glasses. Other head and face coverings need to be removed for a reliable screening. All of this is preferably done while standing still to provide the highest accuracy. If a person is moving, accuracy will drop.
Furthermore, temperature of a human skin can be measured via thermal radiation but is different from body core temperature. Because of these conditions, skin temperature might be higher which can result in an alarm, which means both positive and false alarms can occur. After detecting an elevated skin temperature, a second evaluation method with a medical device is always advised.
The solution complies to FDA Emergency Use Authorization (EUA) rules and regulations and follows four out of five IEC standards:
Regulatory requirements
IEC
FDA (EUA)
Bosch test values

Regulatory requirements

IEC defined test method

IEC

IEC

FDA (EUA)

IEC or alternative

Bosch test values

IEC described test method

Regulatory requirements

Temperature accuracy is less or equal to

IEC

0.5 °C / 0.9°F

FDA (EUA)

0.5 °C / 0.9°F

Bosch test values

0.5 °C

Regulatory requirements

Stability is less than

IEC

0.1 °C

FDA (EUA)

0.2°C / 0.36°F

Bosch test values

0.18 °C

Regulatory requirements

Drift is less than

IEC

0.1 °C

FDA (EUA)

0.2°C / 0.36°F

Bosch test values

0.055 °C

Regulatory requirements

System includes accurate blackbody

IEC

X

FDA (EUA)

X

Bosch test values

Yes

Regulatory requirements

Device risk assessment addresses all potential safety issues

IEC

X

FDA (EUA)

X

Bosch test values

Yes
Overview of the complete solution
The full solution kit consists of:
DINION IP thermal 9000 RM (NBT-9000-F19QSM)
VIDEOJET decoder 7000 (VJD-7513)
Keyboard (KBD-UXF)
Reference temp. device (IBB-5000-35)
Optional Midspan PoE injector (NPD-5000i-POE)
Optional tripod (0601096A00)