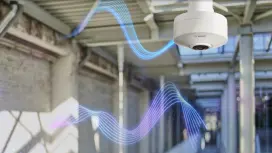 The FLEXIDOME panoramic 5100i cameras are the first cameras enabled for Intelligent Audio Analytics, helping security staff see with sound to understand the situation quickly and appropriately respond to an incident.
Intelligent Audio Analytics detects and classifies sounds and identifies the approximate direction of the source. This new audio AI is trained on field data sets in various environments and background noises to detect sound signatures of gunshots, smoke alarms (T3), and carbon monoxide alarms (T4) while ignoring false positives, like slamming car doors or banging carts. This precise detection enables security guards to confirm the alarm visually and act proactively. The cameras offer 360-degree coverage without blind spots, an integrated microphone array, and three MEMS acoustic sensors that can capture sound from any direction to help guide an operator to the area of interest. The first Intelligent Audio Analytics software licenses available for the cameras are the Gunshot Detector and T3/T4 (Smoke and Carbon monoxide alarm) Detector. Additional detectors are planned in the future firmware releases.
Like all Bosch cameras, the new panoramic cameras combine built-in AI with the Internet of Things (IoT), easily converting video data into valuable insights. Remote Portal fully supports these video cameras, enabling system integrators to remotely perform services such as changing configuration settings and installing firmware updates to ensure systems meet the highest reliability standards and support sustainable business practices.
24/7 Situational awareness
High-quality imaging with no blind spots covers large and uniquely shaped areas, while edge-based AI delivers insights to identify important objects or situations any time, day, or night.
Accurate and reliable sound detection
Improve situational awareness and strengthen security by pairing video with audio analytics. Precise detection of specific sound signatures while ignoring false positives enables security guards to confirm the alarm visually and act proactively.
Simple to install
Panoramic cameras are easy to install with a twist-and-click system and have adjustable imager rotation for versatile use.
Stress-free and sustainable operations
Our cloud-based approach ensures that all our solutions maximize convenience and minimize costly on-site visits, effectively reducing travel and CO₂ emissions.
Secure and protected
We embrace an end-to-end approach to maximize data security, physical safety, and cybersecurity to give you peace of mind and protection against potential threats. No audio information needs to be recorded or leave the camera ensuring privacy is protected.
Seamless integration
Panoramic cameras offer valuable insights to users thanks to their seamless integration with Bosch and leading video management systems. Event-based integration of Intelligent Audio Analytics with BVMS, Cloud Services and Bosch intrusion panels. Bosch Sound Detectors are integrated in Intrusion Alarm system allowing users to interface with one system and trigger emergency alarms.
Get started with Bosch FLEXIDOME panoramic 5100i cameras
Need more information or help from one of our experts?
Need more resources and tools?