Bosch Building Technologies Academy – Onze trainingscursussen voor integrators
Trainingsportfolio in het kort
Lees verder voor een overzicht van onze trainingsgebieden. Voor meer details over de inhoud van de trainingen registreert u zich voor de Bosch Building Technologies Academy en meldt u zich hierbij aan.
Download de trainingscatalogus hier.
Wat is de Bosch Building Technologies Academy?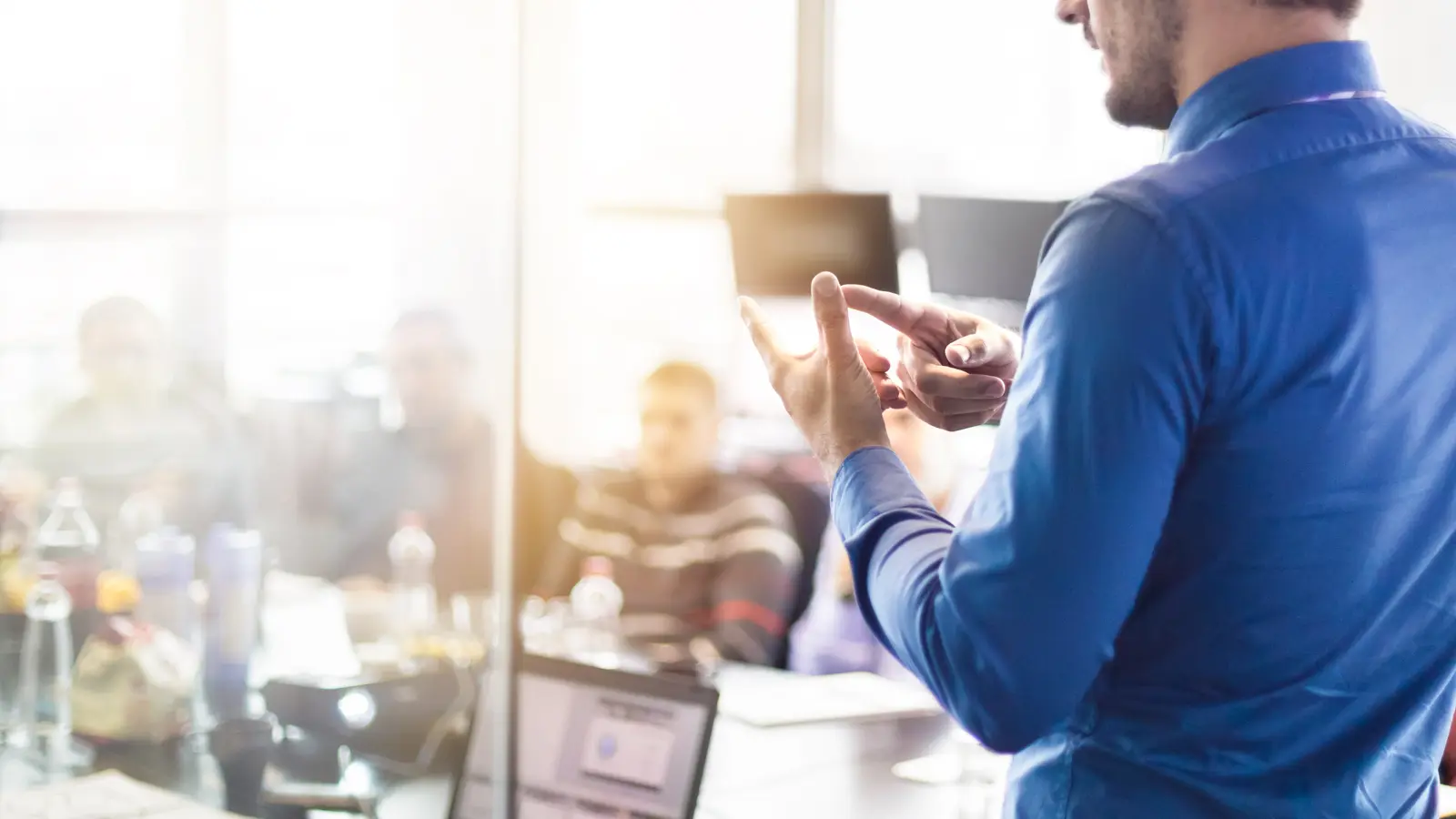 Onder het dak van de Bosch Building Technologies Academy bieden we uitgebreide training voor certificering voor onze producten en extra ontwikkelingsmogelijkheden. Wanneer u toegang hebt tot de academy, kunt u zich registreren voor een trainingsprogramma, uw trainingsdocumenten openen, deelnemen aan cursussen, uw leervorderingen volgen, uw examen afleggen en uw certificering downloaden in de vorm van een afdrukbare PDF. Onze online cursussen en klassikale training bestrijken de volledige beveiligings-, veiligheids- en communicatieproductportfolio, evenals trainingscursussen voor oplossingen voor specifieke industrieën.
Welke voordelen biedt onze training?
Wij willen integrators die werken met onze producten en systemen vaardigheden en kennis bieden. Onze training is speciaal ontworpen om je te helpen complexe projecten sneller, soepeler en rendabeler te installeren en uit te voeren. Uit door Bosch uitgevoerde tests blijkt dat technici zowel efficiënter als effectiever werken nadat ze hun training hebben gevolgd in onze academy. De onderstaande cijfers staan voor de gemiddelde resultaten:
tijdbesparing wanneer gekwalificeerde technici camerasystemen en inbraakalarmsystemen van Bosch installeren.

minder telefonische ondersteuningsverzoeken vereist wanneer gekwalificeerde technici camerasystemen en inbraakalarmsystemen van Bosch installeren.

minder onvoorziene incidenten vinden plaats wanneer gekwalificeerde technici camerasystemen en inbraakalarmsystemen van Bosch installeren.
Van online cursussen tot persoonlijke/virtuele classroom training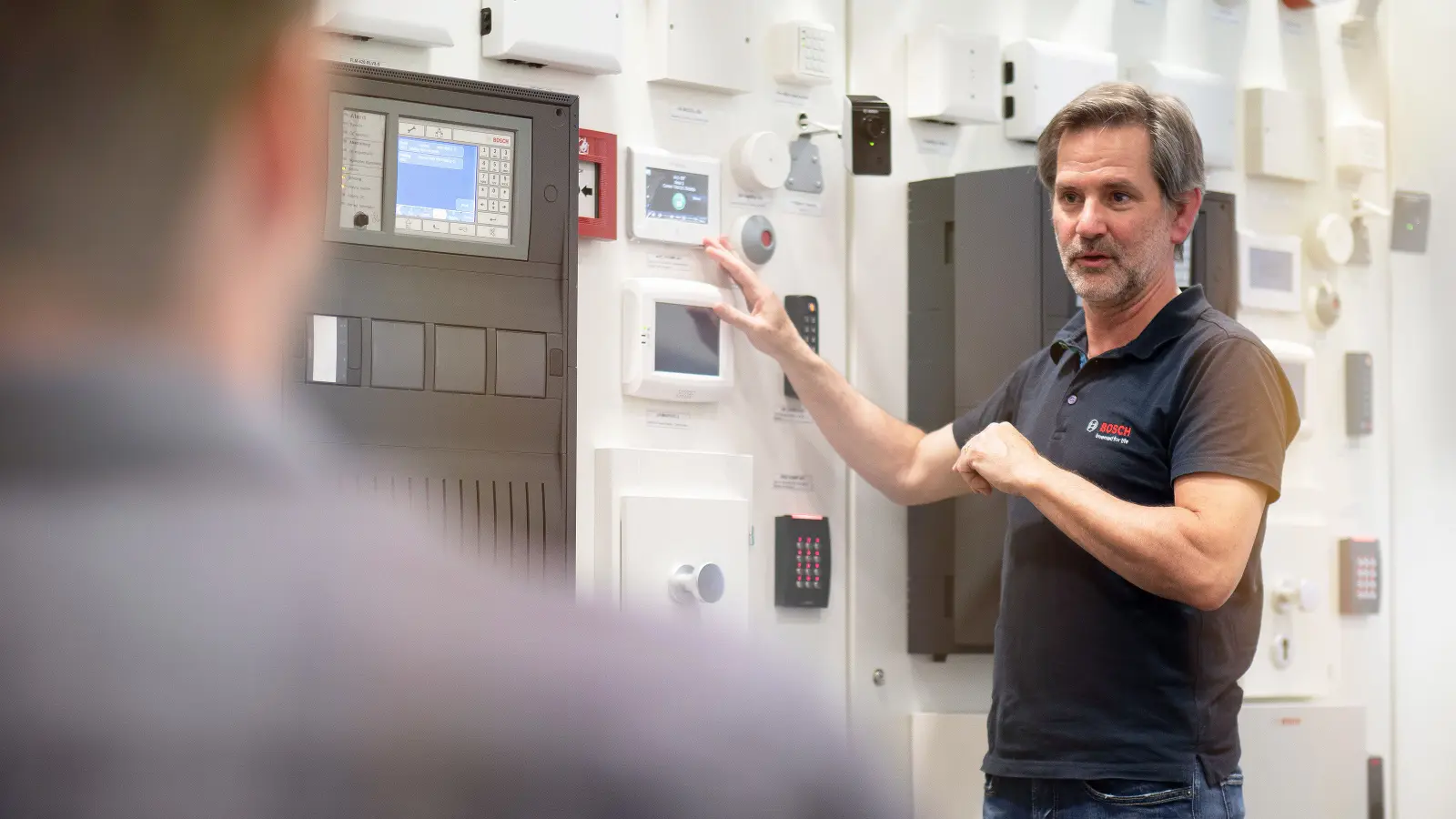 We bieden drie soorten trainingen aan: Gratis online cursussen bestrijken het grootste deel van onze portefeuille. Ze zijn 24 uur per dag, 7 dagen per week beschikbaar en kunnen op uw eigen tempo worden gevolgd. Virtuele klassikale cursussen vinden ook online plaats, maar dan op vooraf bepaalde data. Aangezien deze cursussen plaatsvinden in kleine groepen met ondersteuning door een trainer, bieden ze een hoger interactieniveau. Ons persoonlijke lessen cursussen vinden plaats in een van onze 165 opleidingscentra wereldwijd. Voor een indruk van onze trainingslokalen bekijkt u deze video.
Om aan specifieke behoeften te voldoen, is het ook mogelijk om persoonlijke face-to-face cursussen op locatie te geven.
Onze trainingsplannen: stapsgewijs vaardigheden opdoen
Onze certificeringen zijn cursuspakketten die zijn samengesteld om je een meer diepgaande kennis over een bepaald onderwerp te bieden. Ze zijn opgebouwd op twee niveaus: op het EXPERT niveau krijgt je een mix van online en klassikale cursussen. Op het MASTER-niveau bouw je de meest omvattende technische en commerciële vaardigheden op in klassikale cursussen. Met onze trainingsplannen kunt u op elk gewenst moment uw voortgang bijhouden en deze op gerichte wijze verder ontwikkelen. Wij bieden tevens aanvullende, gespecialiseerde training met algemene overzichten van en productkennis voor verschillende branches.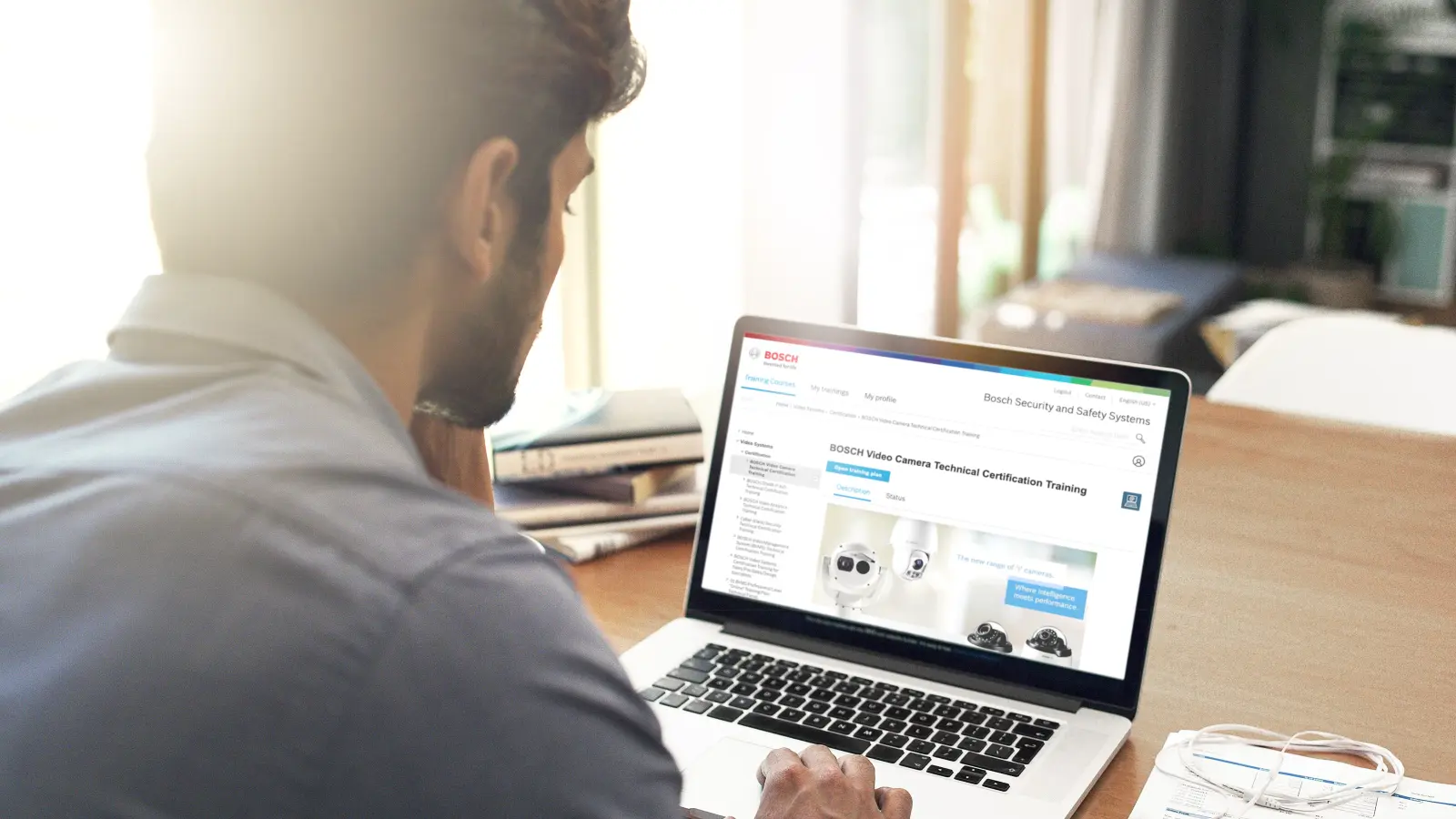 Verkrijgbare certificeringen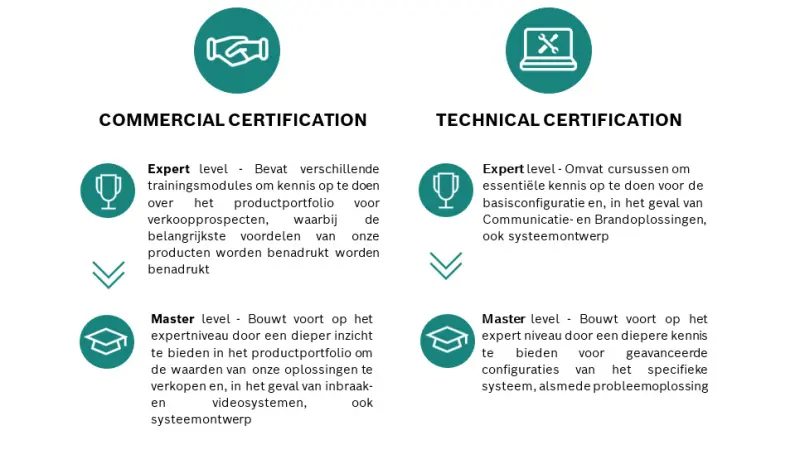 Toon uw vaardigheden met certificeringen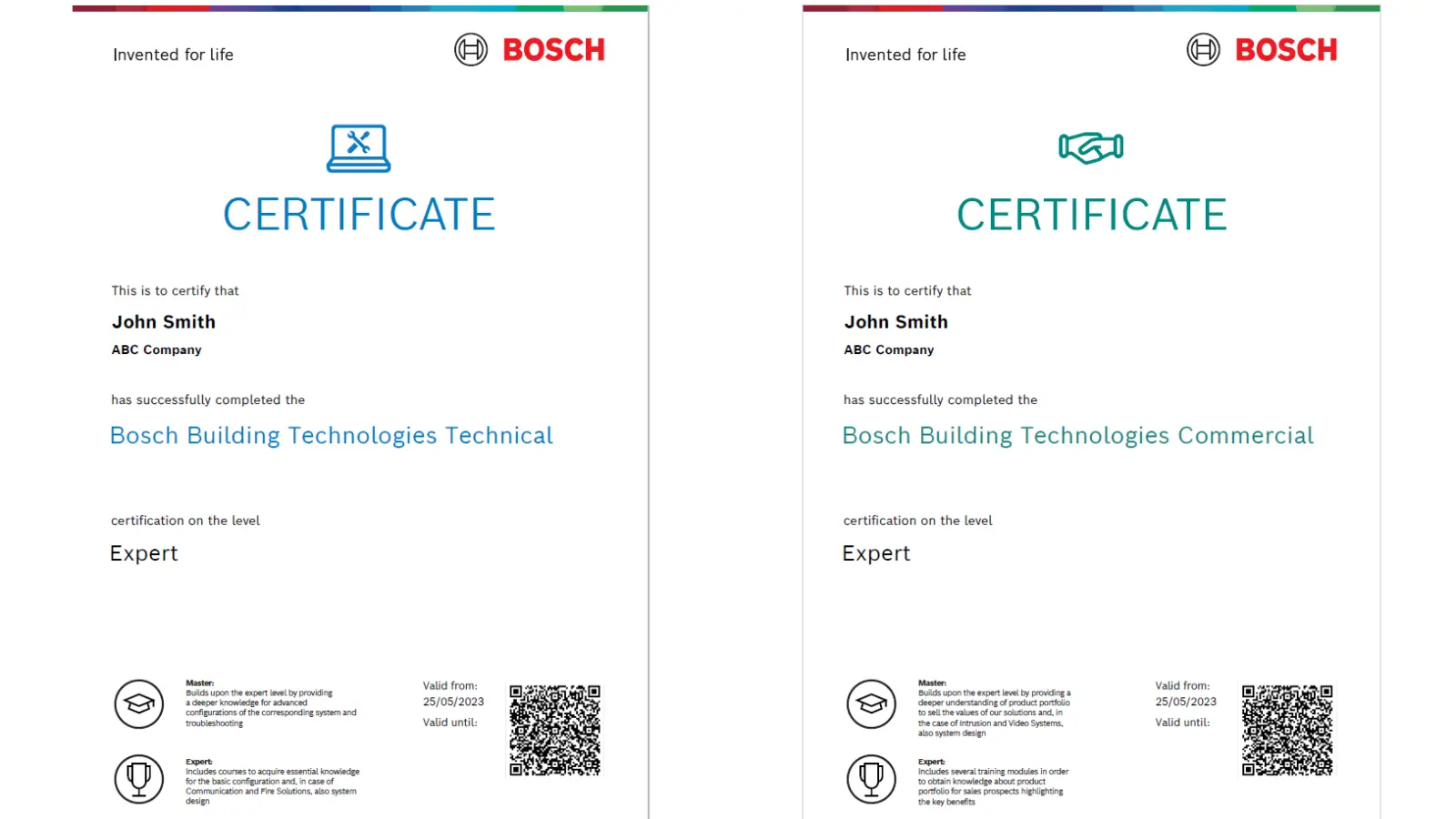 U kunt voor elk niveau van ons trainingsplan certificaten verwerven. Met deze certificaten, die beschikbaar zijn in alle veelgebruikte talen, kunt u uw technische vaardigheden en bekwaamheid aantonen. Om een certificaat te verwerven, moet u slagen voor een online of klassikaal examen. Alle certificaten worden online opgeslagen in uw persoonlijke gebied van de Bosch Building Technologies Academy en kunnen op elk gewenst moment worden gedownload en afgedrukt. Elk certificaat is 24 maanden geldig. Voordat het verloopt, wordt u hieraan herinnerd via een e-mail met een kennisgeving. Om gecertificeerd te blijven, heb je een jaar de tijd om online de gratis hercertificerings cursus te volgen en voor het bijbehorende examen te slagen.
Begin uw training bij de Bosch Building Technologies Academy in slechts drie eenvoudige stappen.
Eerst registreert u zich eenmaal bij de Bosch Building Technologies Academy. Uw verzoek wordt normaal gesproken verwerkt binnen 30 minuten. Vervolgens ontvangt u een e-mail met uw toegangsgegevens, waarna u zich kunt aanmelden bij onze academy.

Kies het gewenste productgebied en selecteer een trainingsplan of een cursus voor een enkel product. Je kunt ook trainingsplannen vinden die bestaan uit een aantal vooraf samengestelde cursussen.

Start uw training en begin met leren. Als u een online cursus hebt geselecteerd, kunt u direct daarmee beginnen. Voor virtuele en persoonlijke klassikale cursussen ontvang je van ons alle documenten die nodig zijn om de training bij te wonen. U kunt uw leervorderingen bijhouden in uw persoonlijke aanmeldingsgebied.
Nuttige tips
Enkele antwoorden op de meest gestelde vragen:
Wat moet ik doen als ik mijn gebruikersnaam of wachtwoord ben vergeten?
Je kunt een nieuw wachtwoord aanvragen onder de knop Nieuwe aanmelding, door te klikken op Wachtwoord vergeten.
Zorg ervoor dat je jouw ongewenste e-mail controleert op het nieuwe wachtwoord, aangezien het mogelijk niet correct gesorteerd wordt. Je kunt ook rechtstreeks contact opnemen met boschsecurity.training@bosch.com om een het resetten van een wachtwoord aan te vragen.
Wat krijg ik in de rubriek Open Training te zien?
Je kunt er alle cursussen, examens en certificeringen vinden die je bent begonnen maar nog niet hebt afgerond (incompleet), zodat je gemakkelijk kunt zien wat je nog moet afronden.
Wat krijg ik onder het kopje Aanbevolen Training te zien?
Je vindt er de cursussen, examens en certificeringen die je zijn toegewezen
Waar kan ik de voor mij beschikbare hercertificaten vinden?
De hercertificaten vind je onder de rubriek hercertificaten. Als je certificering bijna verloopt (3 maanden voor de vervaldatum) en je ziet de hercertificeringscursus niet, contacteer dan boschsecurity.training@bosch.com.
Waar kan ik alle beschikbare trainingen zien?
Alle voor jou beschikbare trainingen staan op het tabblad Catalogus aan de linkerbovenkant van je pagina. Klik op een map om een onderwerp waarin je geïnteresseerd bent uit te vouwen.
Hoe kan ik naar trainingen zoeken?
Aanmelden
Klik op het zoekpictogram
Voer de naam van de cursus in
Je kunt ook filteropties openen door de samengevouwen balk uit te vouwen
Bekijk de lijst met de cursussen die voor jou beschikbaar zijn. Je kunt het trainingstype herkennen aan de pictogrammen: Certificeringen of Trainingsplannen; Online trainingen; virtuele of persoonlijke cursussen; Examens; Documenten
Hoe voeg ik een training toe aan de rubriek Mijn favorieten.
Aanmelden
Ga naar de catalogus en klik op de start in de ster om rubrieken of cursussen toe te voegen aan Mijn favorieten
Ga naar het dashboard om Mijn favorieten te vinden en alle cursussen en productonderdelen te zien die je als favoriet hebt gemarkeerd
Waar vind en schrijf ik me in voor persoonlijke of virtuele cursussen die ik misschien wil volgen?
Je vindt deze onder de certificering.
Aanmelden
Vind de certificering met behulp van de zoekfunctie of de catalogus
Open de certificatie en zoek de cursus. Ze zijn herkenbaar aan het pictogram
Bekijk de lijst met de voor jou beschikbare lessen. Als er geen les beschikbaar is, neem dan contact op met

boschsecurity.training@bosch.com

.
Bevestig de lesinformatie en schrijf je in
Hoe verander ik de gegevens van mijn gebruikersprofiel?
Aanmelden
Ga naar het pictogram Mijn profiel rechtsboven op de pagina of in het Dashboard
Klik op de vervolgkeuzepijl van Mijn gegevens en op Bewerken
Wat doe ik als ik van bedrijf verander?
Aanmelden
Ga naar het pictogram Mijn profiel rechtsboven op de pagina of in het Dashboard
Klik op de vervolgkeuzepijl van Mijn gegevens en op Bewerken
Hoe zie ik alle trainingen die al zijn gestart of afgerond?
Aanmelden
Ga naar Mijn lessen in het dashboard
Klik op de vervolgkeuzepijl Filter. Je kunt het filter gebruiken om de zoekopdracht naar beneden te verplaatsen. Je kunt de status selecteren om de cursussen te vinden die je voltooid hebt of waarvoor je geslaagd bent. Met de optie Toon alles in het veld Aantal resultaten worden alles weergegeven
Waar kan ik al mijn certificaten/voltooiingsbevestigingen om te downloaden zien?
Aanmelden
Ga naar Dashboard en open Mijn certificaten
Klik op de titel van het certificaat om af te drukken of op te slaan
Waarom gaat de training die ik wil volgen of het examen dat ik wil afleggen niet open?
Enkele mogelijke redenen zijn:
Als je de voorwaarden voor deze cursus niet hebt vervuld, kun je de cursus niet openen. Als je met de muis over het kluisje beweegt, zie je wat de vereisten zijn
Als je een pop-up blocker in je browser hebt ingeschakeld, start de online training mogelijk niet correct. Zet de pop-up blocker in je browser uit en start de cursus opnieuw. Zorg ervoor dat je de module opnieuw start vanuit de pagina Online-inhoudsstructuur voor de cursus, die werd weergegeven toen je de cursus aanvankelijk startte. Denk er ook aan dat, afhankelijk van je browserinstellingen, de online cursus in een nieuw tabblad of venster opent. Mogelijk is de cursus in een ander venster of tabblad geopend. Kijk in je taakbalk naar een ander open browservenster of het hoofdtabblad van je browser naar een ander geopend tabblad.
Als je nog steeds geen online cursus kunt openen, is er mogelijk een breder probleem. Als je na het proberen van deze tips nog steeds niet in staat bent je online cursus te starten, contacteer dan

boschsecurity.training@bosch.com

.
Ik kan mijn online cursus op dit moment niet afmaken, moet ik opnieuw beginnen?
Je kunt verdergaan waar je was gebleven door naar het tabblad Mijn trainingen te gaan en vervolgens op de startknop aan de rechterkant te klikken.
Wat als het een cursus tegen betaling is?
Nadat je je hebt aangemeld voor een cursus waarvoor betaling is vereist, word je in de klas geplaatst als "aangevraagde" deelnemer. Binnen 24-48 uur ontvang je je betalingsinstructies. Als je deze instructies hebt voltooid, ontvang je een kwitantie voor de cursus en ben je officieel ingeschreven.
Wat als er geen plaatsen beschikbaar zijn voor het geplande aanbod dat ik wil?
Als het de aangeboden cursus vol is, moet je een verzoek indienen om op de wachtlijst te worden geplaatst bij de trainingsbeheerder via boschsecurity.training@bosch.com. Geef op de site de cursus, de datum en je accountnaam op.
Hoe kan ik me terugtrekken uit een cursus (virtueel of persoonlijk)?
Zoek de cursus onder Open training sectie
Selecteer de cursus waarvoor je je hebt ingeschreven
Annuleer de registratie. De klant kan zich tot 30 dagen voor de betreffende start van de training uit een les terugtrekken. Eventuele opleidingskosten worden volledig aan de klant gerestitueerd. Bij annulering tot 15 dagen voor aanvang van de opleiding wordt de helft van het opleidingsgeld in rekening gebracht, na deze dag wordt het volledige opleidingsgeld in rekening gebracht, tenzij een vervangende deelnemer van hetzelfde bedrijf wordt aangewezen.
Wat als een cursus geen geplande data heeft?
Ik heb een vraag die hier niet beantwoord is. Wat moet ik doen?