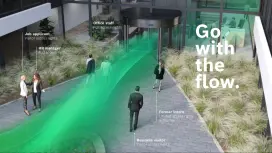 Toegangscontrole is een essentieel onderdeel van de beveiliging van gebouwen. U hebt zeer betrouwbare software nodig om de toegangsprofielen van verschillende gebruikers van uw faciliteit te beheren. Onze toegangscontrolesoftware (Access Management System) is een toekomstbestendig toegangsbeheersysteem voor middelgrote tot grote toepassingen. Het is eenvoudig te gebruiken, te bedienen en uit te breiden. Het biedt de strengste databeveiliging en verschillende functies die alleen in high-end beveiligingsoplossingen worden aangetroffen. Bovendien staat de software open voor integratie met systemen van derden. Dit maakt het een zeer veelzijdige oplossing voor uw toegangscontroleprojecten.
Onze oplossing voor toegangscontrole kan gemakkelijk meegroeien met de behoeften van de klant. De software is verkrijgbaar in drie vooraf geconfigureerde softwarebundels voor toepassingen van verschillende grootte: Lite, Plus en Professional. De bundels bieden elk een groot aantal kaarthouders en deuren. Dat maakt upgraden gemakkelijk als uw organisatie groeit. In de grootste bundel kunnen tot 400.000 kaarthouders en 10.000 deuren worden beheerd. Aangezien er geen hardware hoeft te worden vervangen, is het uitbreiden van de systeemomvang zeer kostenbesparend. Door deze uitstekende schaalbaarheid is de software een toekomstbestendige investering.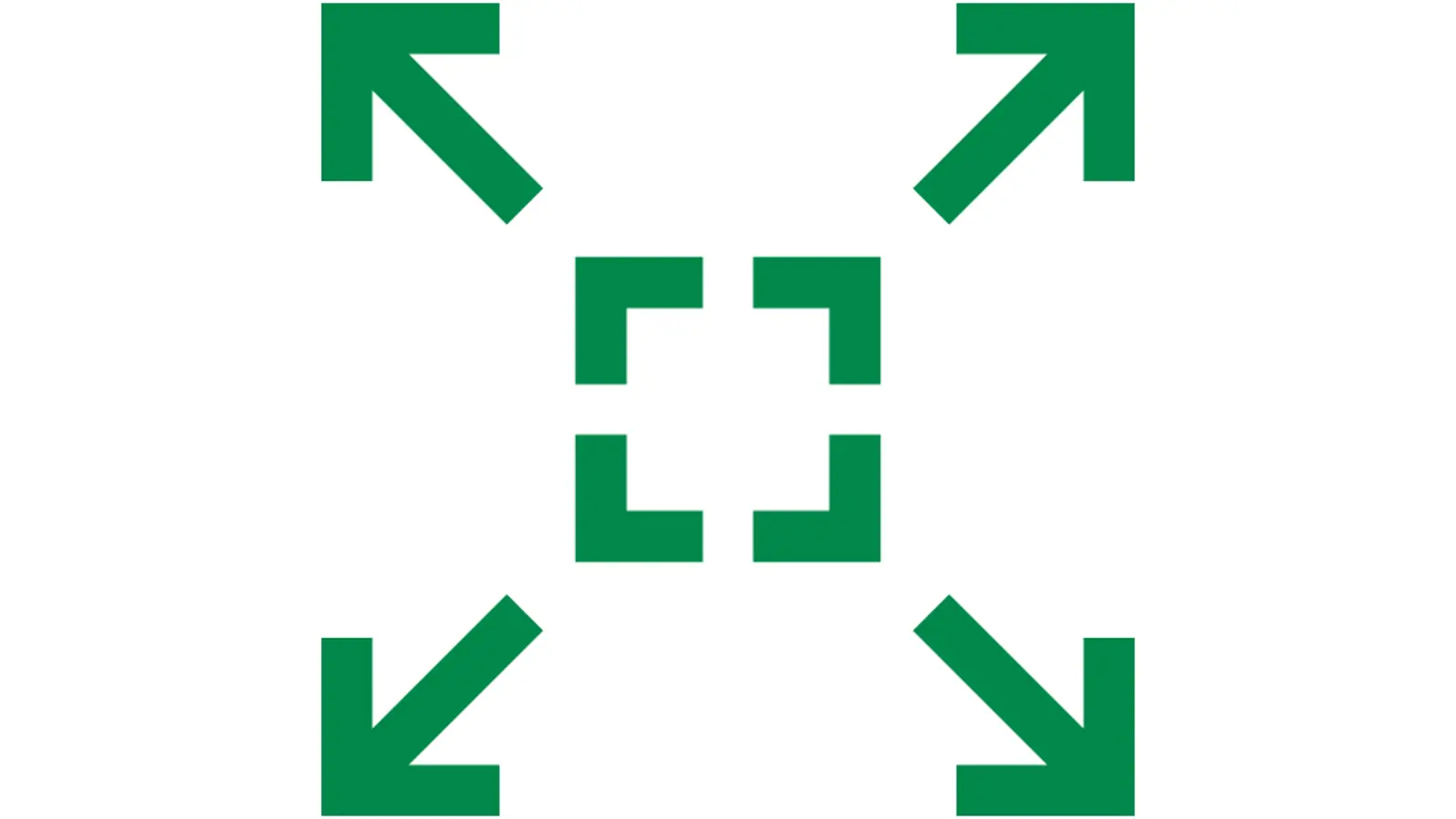 Lite
Plus
Professioneel

Lite

Inbegrepen in de bundel (Maximale uitbreiding)

Plus

Inbegrepen in de bundel (Maximale uitbreiding)

Professioneel

Inbegrepen in de bundel (Maximale uitbreiding)

Deuren

Lite

16 (80)

Plus

32 (288)

Professioneel

128 (10000)

Kaarten

Lite

200 (5000)

Plus

2000 (10000)

Professioneel

5000 (400000)

Divisies

Lite

1 (1)

Plus

2 (5)

Professioneel

5 (200)

Clients

Lite

1 (2)

Plus

2 (5)

Professioneel

5 (200)

Master Access Controller (MAC)

Lite

1 (1)

Plus

1 (5)

Professioneel

1 (40)

Bewakingsronden

Lite

50 (50)

Plus

100 (100)

Professioneel

200 (200)

Webgebaseerd Visitor Management

Lite

nee (ja)

Plus

nee (ja)

Professioneel

ja (ja)

REST API

Lite

nee (nee)

Plus

ja (ja)

Professioneel

ja (ja)
De configuratie van onze software voor toegangscontrole is gemakkelijk: bestaande etageplattegronden worden in het systeem geïmporteerd en pictogrammen die controllers, deuren en gebouwobjecten vertegenwoordigen, worden gesleept en neergezet op de plattegrondweergave. De ingebruikname is ongecompliceerd: registratie en toewijzing van toegangsrechten worden allemaal geïmplementeerd in één Dialog Manager, zelfs de registratie van biometrische gegevens, zoals gezichtsherkenning. En dankzij de tool voor importeren/exporteren kunnen ook de gegevens van enkele duizenden kaarthouders, die zijn ondergebracht in oudere of HR-systemen, met slechts enkele klikken snel worden geïmporteerd. De mogelijkheid om toegangsprofielen met een bepaald autorisatiebereik te maken, vereenvoudigt de toewijzing van autorisaties, aangezien niet elke afzonderlijk autorisatie hoeft te worden toegewezen aan de kaarthouder, maar slechts één vooraf gedefinieerd rolprofiel. Om de selectie van beschikbare lezers en controllers uit de Bosch productcatalogus te vereenvoudigen, worden ze met productfoto en CTN-nummer in de apparaatconfiguratie weergegeven.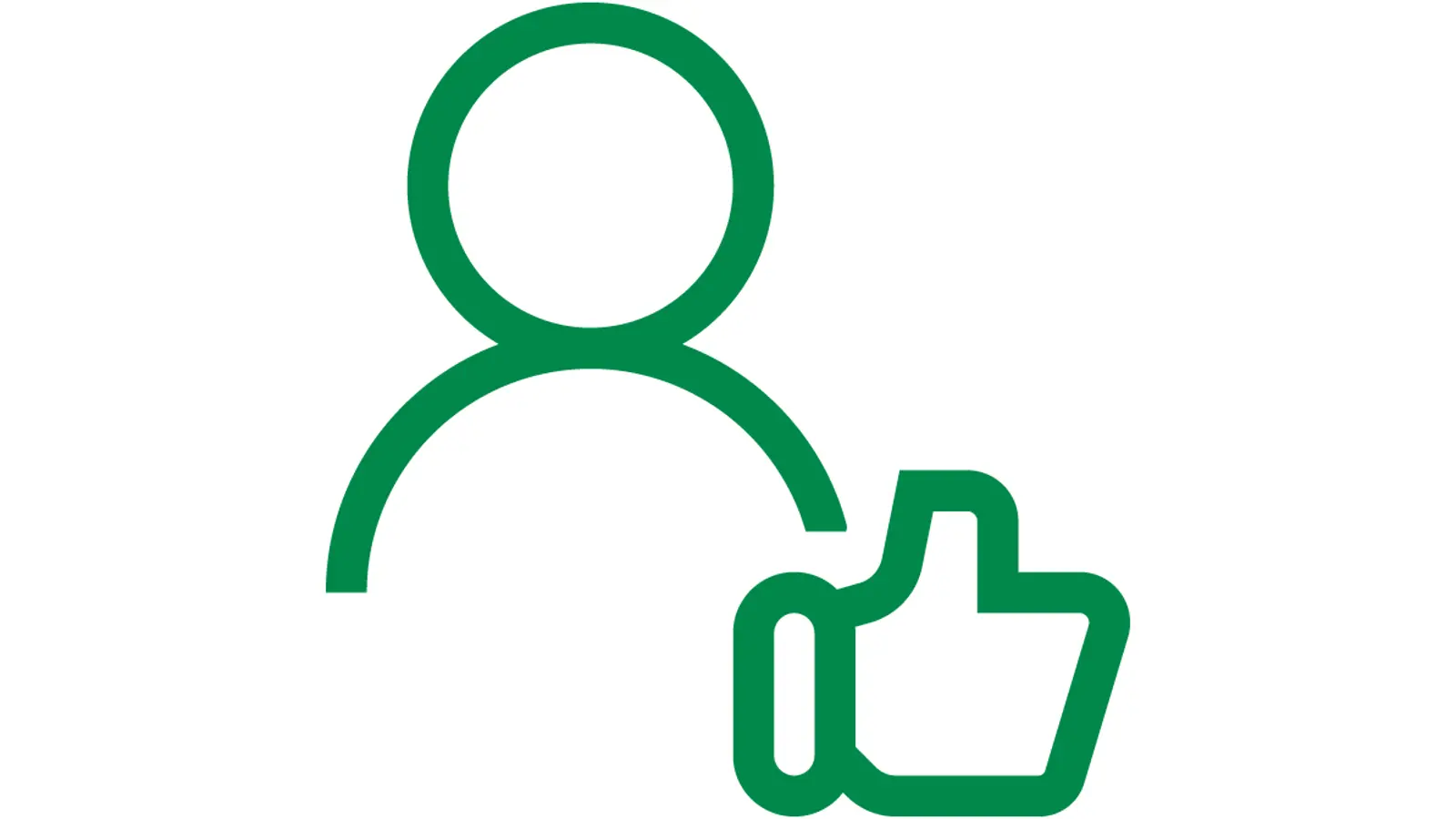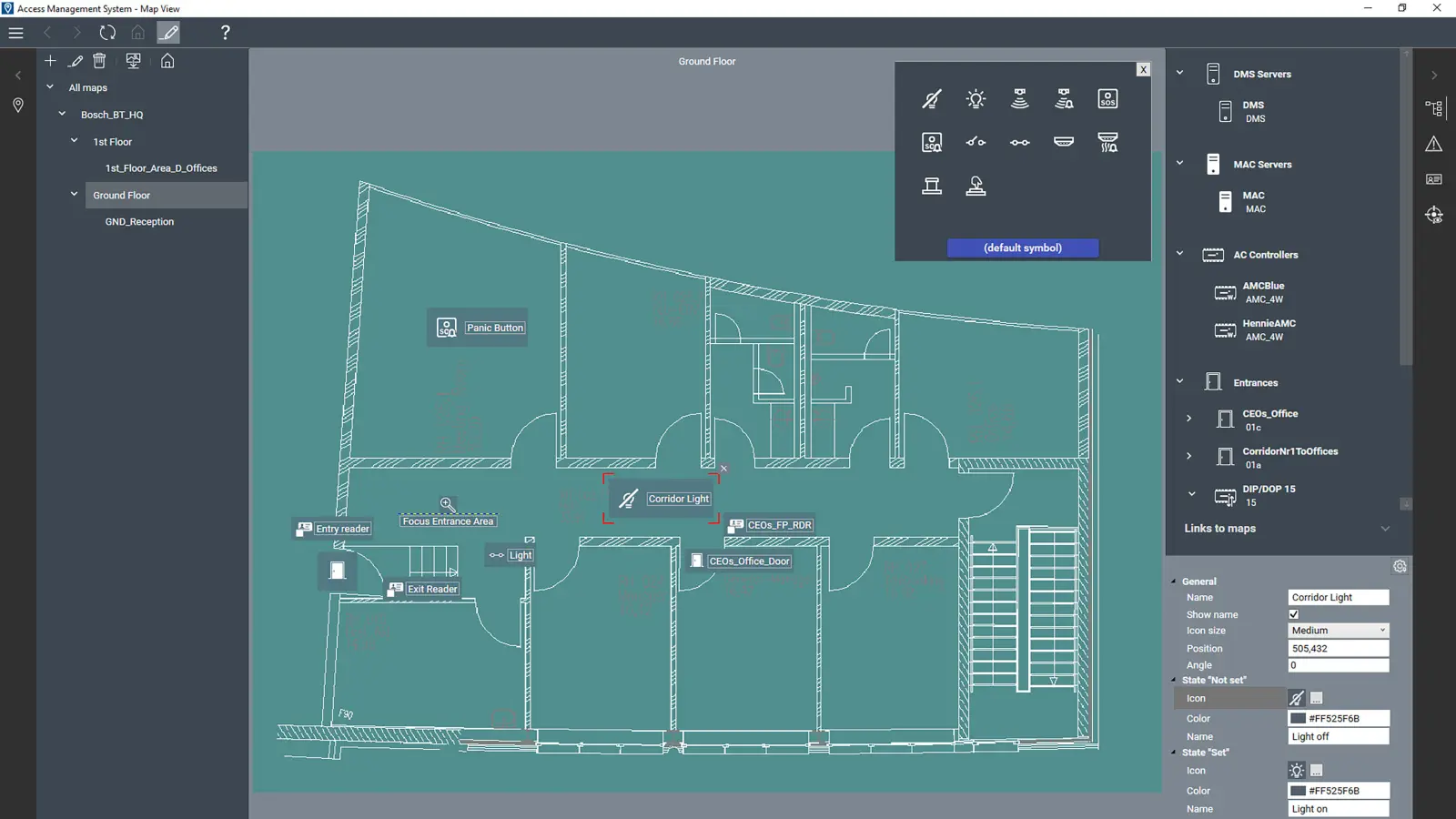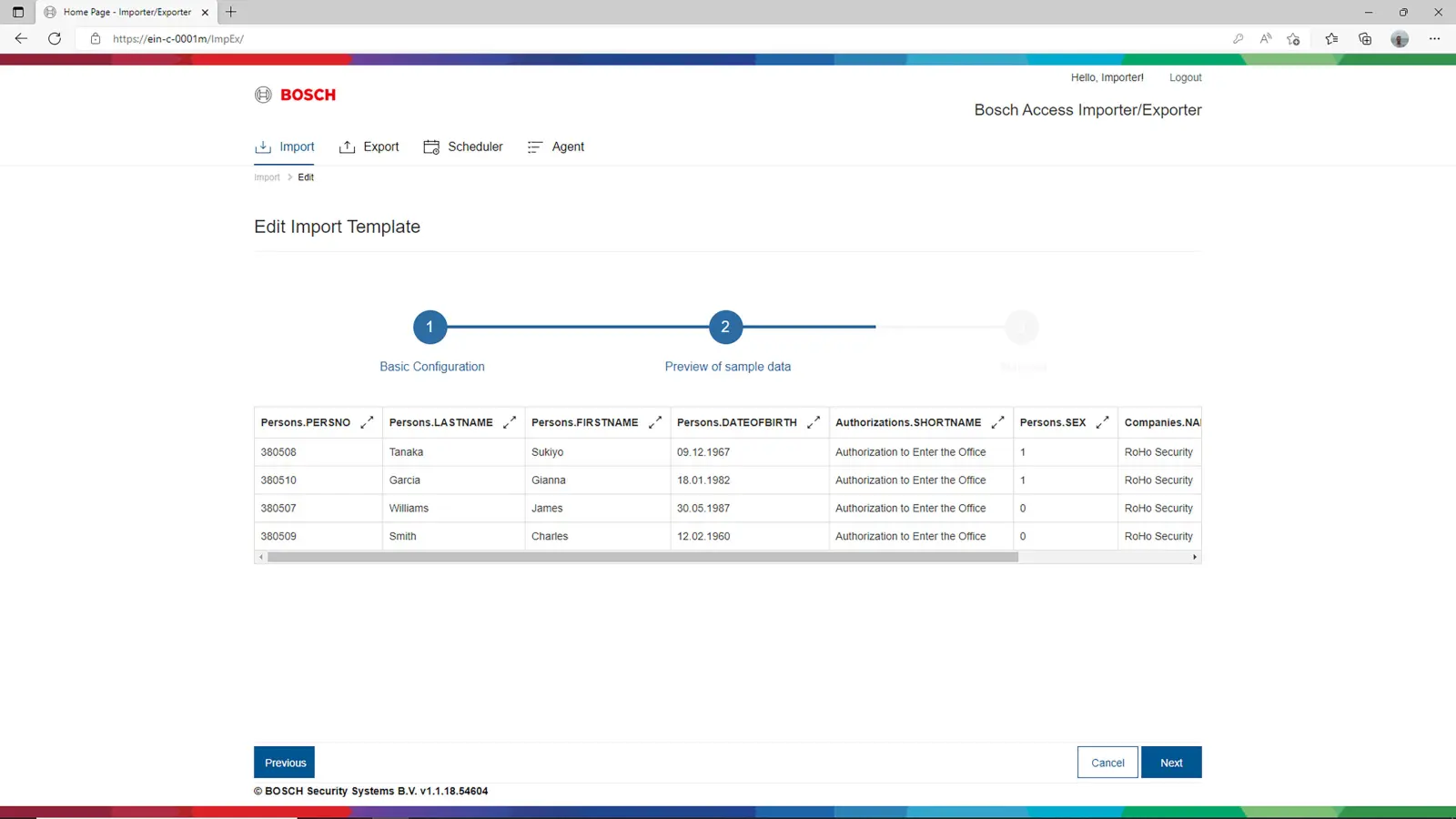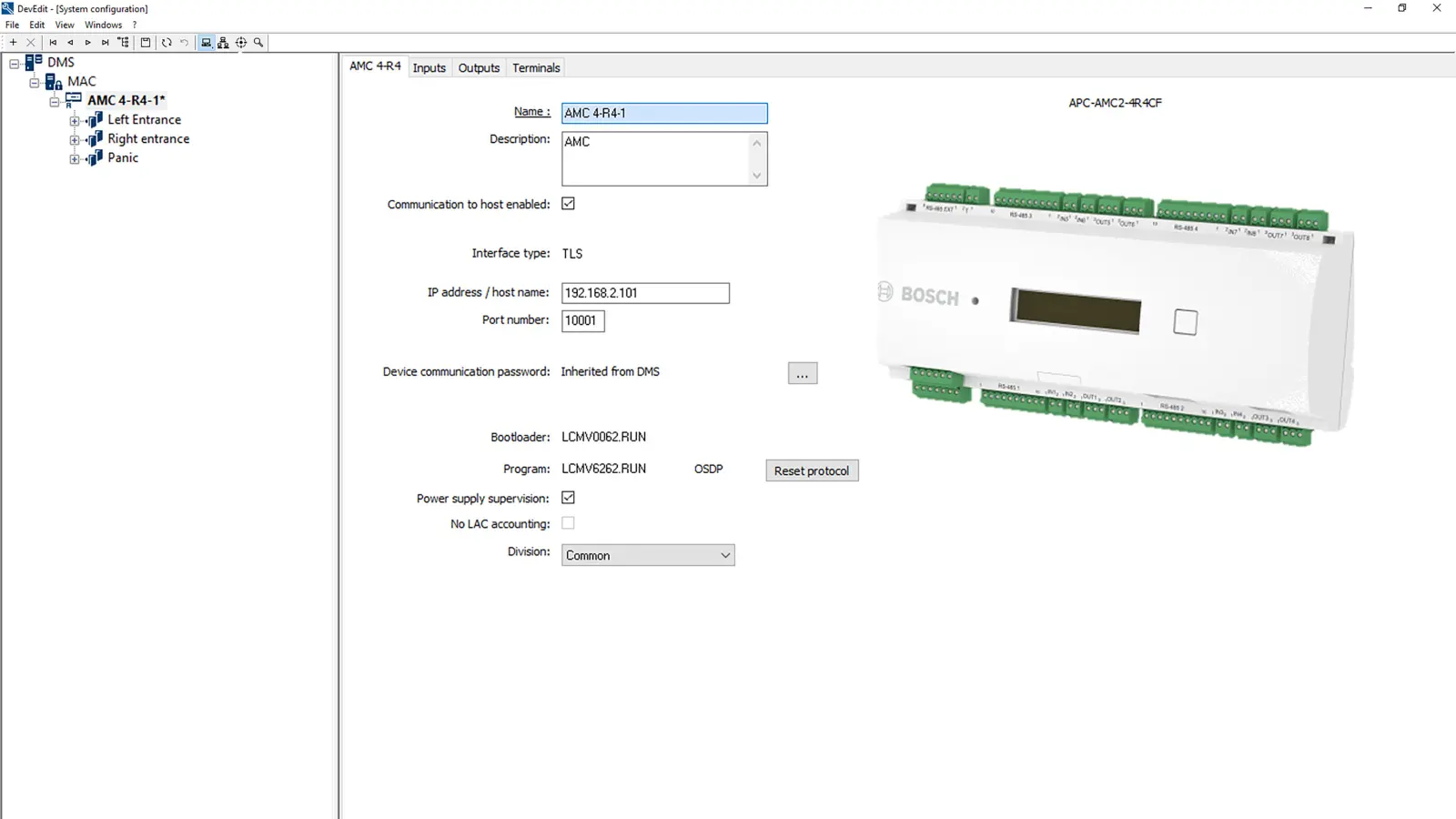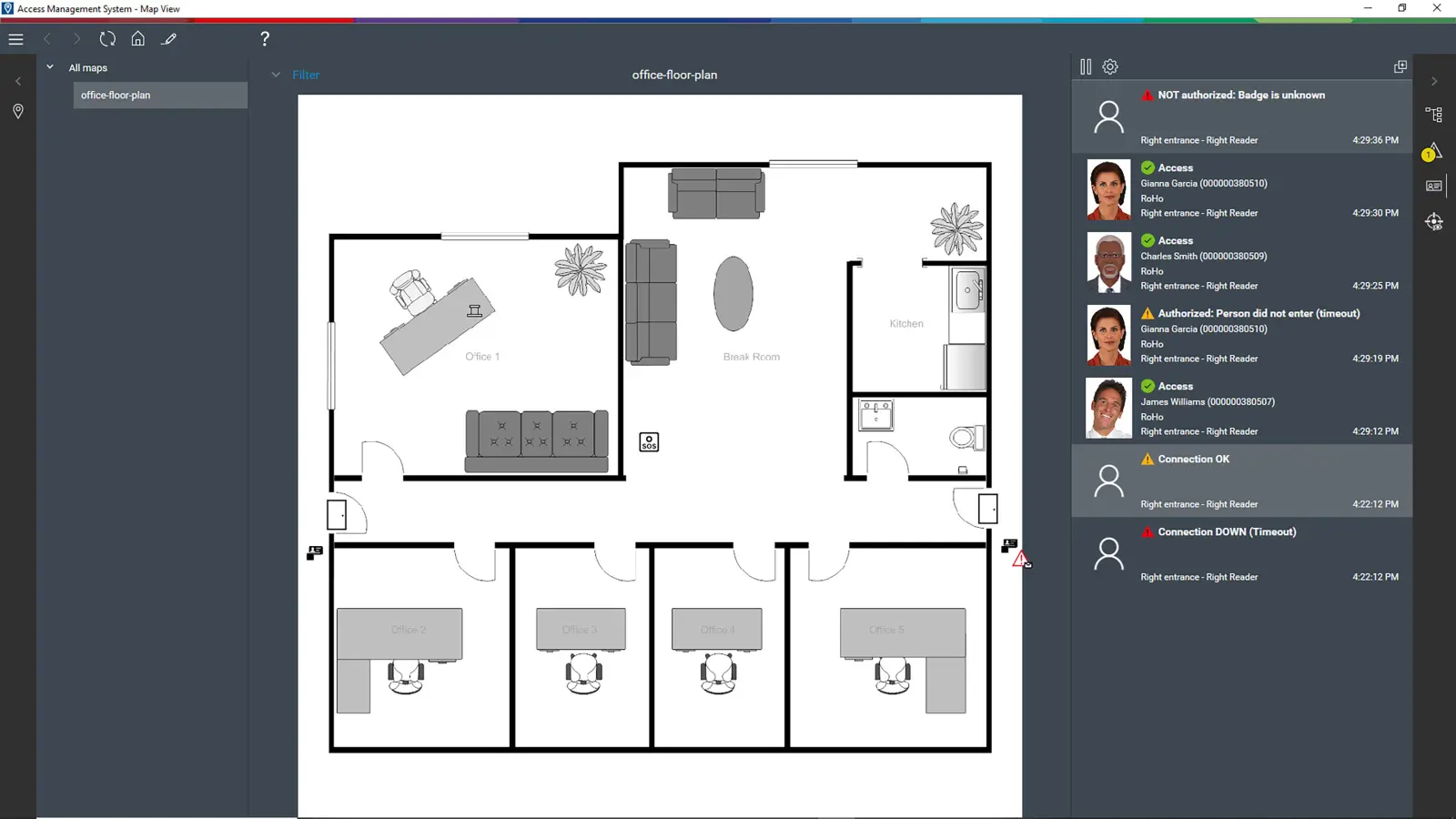 Zodra ons gebruikersvriendelijke toegangscontrolesysteem is geïnstalleerd en ingesteld, is het ook eenvoudig te gebruiken, met een intuïtieve alarmlijst met pictogrammen en een kleurenschema om snelle en efficiënte reacties van de operator te verzekeren. De operator heeft te allen tijde een volledig overzicht over de situatie dankzij de directe updates van gebeurtenissen bij de toegangspunten via de uitgebreide plattegrondweergave. De operator ziet een constant bijgewerkte lijst met de laatste kaarthouders die probeerden toegang te krijgen tot bepaalde deuren en toont wie toegang kreeg en wie niet. Daarnaast geeft de plattegrondweergave de desbetreffende deur aan op de plattegrond, zodat de operator snel kan zien waar de gebeurtenis zich precies voordoet.
Bosch hanteert de hoogste normen op het gebied van databeveiliging en privacybescherming (die voldoet aan de AVG). Om te beschermen tegen cybercriminaliteit en het verlies van persoonsgegevens, wordt alle communicatie in alle stadia gecodeerd. Onze toegangscontrolesoftware beschikt tevens over vertrouwde digitale certificaten voor wederzijdse verificatie tussen de server en de client en gebruikt veilige ontwerpprincipes zoals 'secure-by-default' (standaard veilig) en het 'least privilege' principe. Uw gegevens zijn absoluut veilig met de toonaangevende Bosch-producten.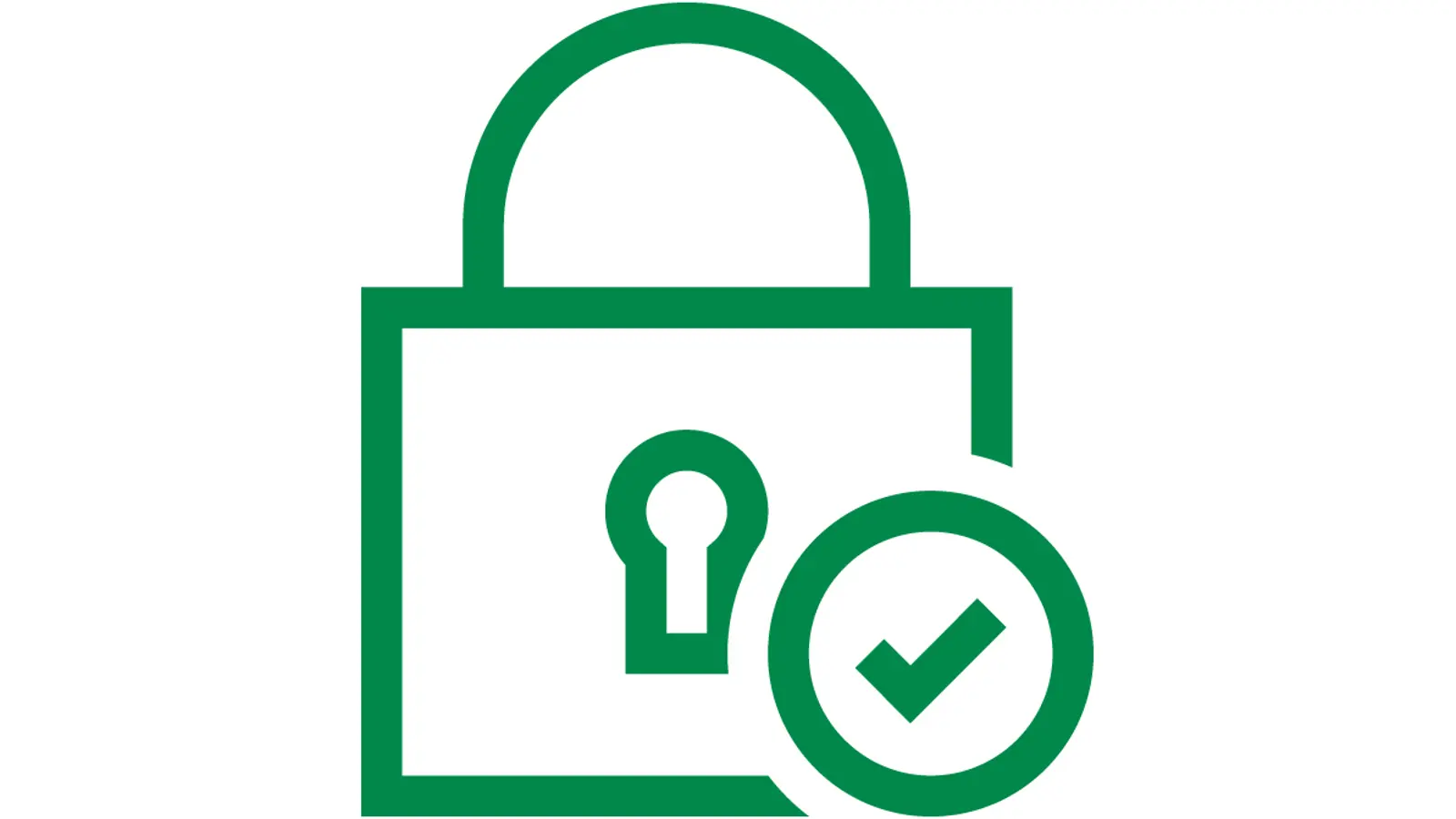 Strenge toegangsautorisaties voor persoonsgegevens
Alleen relevante gegevens kunnen worden verzameld
Duur van gegevensopslag om te voldoen aan het bedrijfsbeleid
Veilig dankzij ontwerp: versleuteling, verificatie, certificaten
Veilig als standaard: alle beveiligingsinstellingen staan standaard op hoog
Principe van de minste rechten: toewijzing van granulaire rechten voor operators
Flexibiliteit en openheid zijn voor ons heel belangrijk. We hebben ons systeem zo ontworpen dat het volledige integratiefunctionaliteit biedt. En tegelijkertijd blijft het net zo betrouwbaar en veilig als u van Bosch gewend bent. Er is een op REST gebaseerde API (REST API) beschikbaar. Deze maakt het voor externe ontwikkelaars mogelijk applicaties te ontwerpen. Op die manier kunt u veel sneller complete oplossingen aan uw klanten aanbieden.
Integratievoorbeelden
Videobeheer
Inbraakalarm-management
Facility management (mobiele apps)
Identiteitsbeheer (op workflow gebaseerd)
Visitor- en supplier-management
Beheer van bewakingsrondes
Veiligheid en personeelsbescherming
Tijd- en aanwezigheidsmanagement
Mobiele en biometrische lezerintegratie
Parkeer- en bezettingsmanagement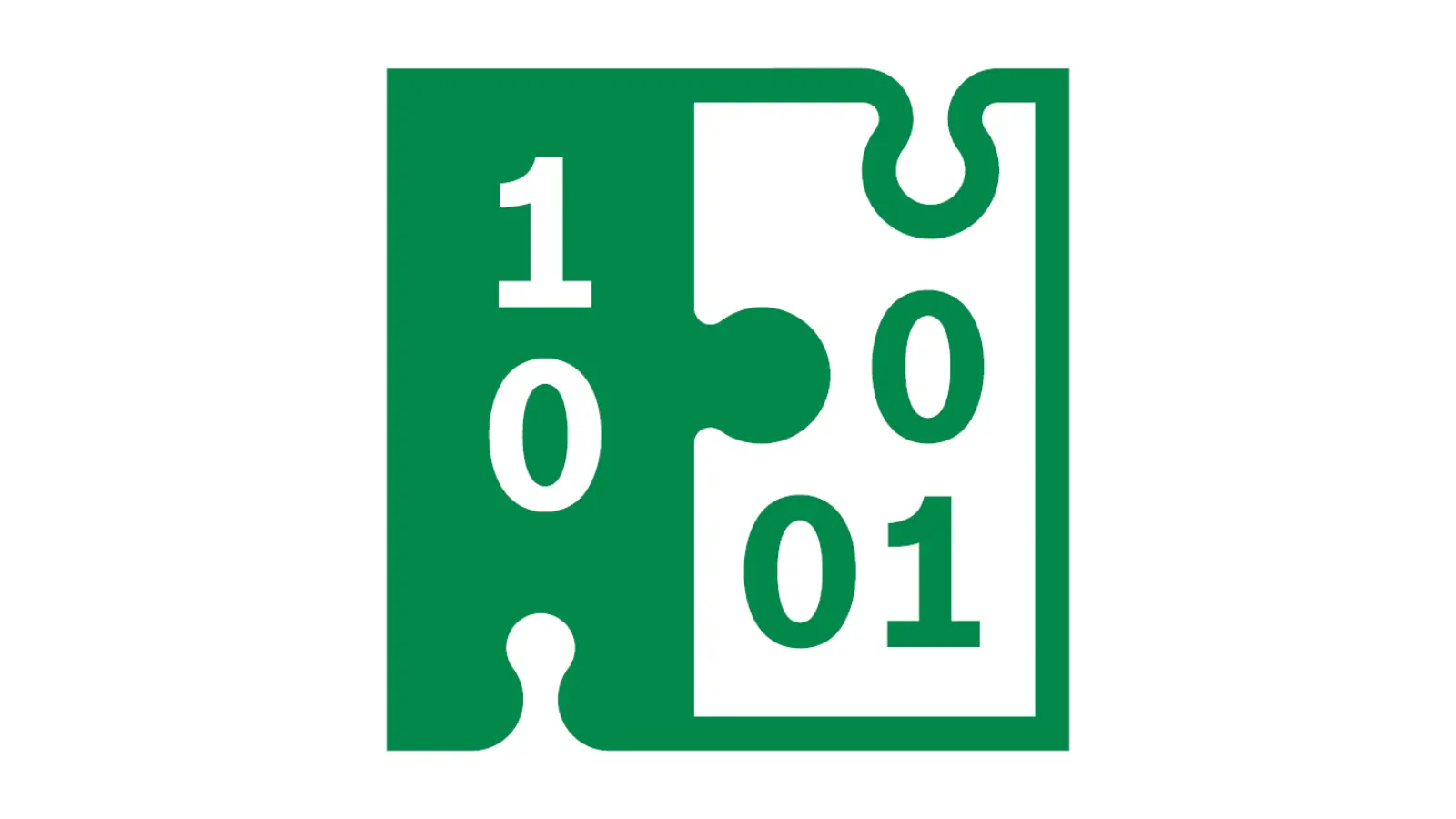 Krachtige combinatie van hard- en software
Een toegangscontrolesysteem combineert logica, controle en signalering naar fysiek beveiligde panden. Daarom is het zeer belangrijk dat de software aan de kant van de beheerder en de hardware aan de kant van de deur betrouwbaar samenwerken. Als vervaardiger van zowel hardware als software zorgt Bosch voor een naadloze integratie in een consistente en betrouwbare end-to-end oplossing.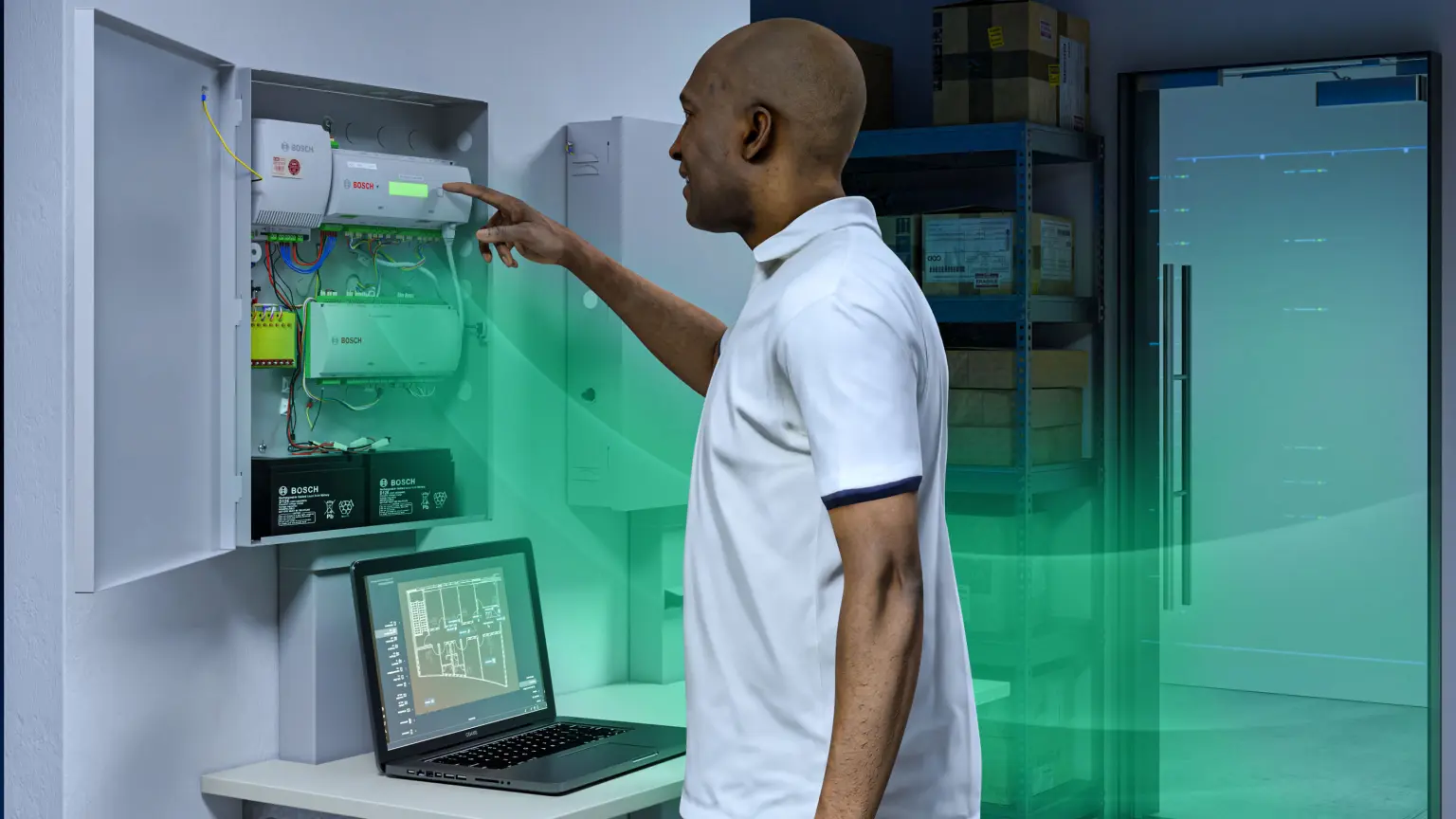 Altijd beschikbaar
Bosch heeft een unieke twee-stapsmethode om ervoor te zorgen dat we meer veerkracht en hoge beschikbaarheid kunnen bieden. Onze op IP gebaseerde toegangscontrole-oplossing maakt gebruik van één of meerdere (redundante) Master Access Controllers (MAC's) tussen de server en de Access Modular Controllers (AMC). Als de server uitvalt, nemen de MAC's het over en zorgen ervoor dat de AMC's nog steeds met elkaar communiceren. Zo kunnen functies die verschillende controllers omvatten, zoals anti-passback, bewakingsronde en gebiedscontrole toch worden uitgevoerd.
En zelfs in het zeer onwaarschijnlijke geval dat beide MAC's uitvallen, blijven de AMC's actief. Op basis van de laatst beschikbare status nemen ze nog steeds de juiste toegangsbeslissing. In de periode dat de verbinding ontbreekt, kunnen tot wel 2 miljoen gebeurtenissen worden opgeslagen. Deze technologie biedt de eindgebruiker de hoogste systeembeschikbaarheid op de markt.
Hier vindt u enkele praktische tools voor een goed inzicht in ons aanbod van software voor toegangscontrole. Hieronder een infographic die de functies en voordelen van onze toegangscontrolesoftware met pictogrammen en afbeeldingen presenteert. Daarnaast is er een systeemgids voor toegangsbeheersoftware die u kan helpen bij het opzetten van uw eigen toegangscontrolesysteem. Als laatste vindt u de link naar onze online productcatalogus waar u alle bestanden kunt downloaden die u nodig heeft voor de nieuwste versie van Access Management System: V5.0