Mobile Access
The smart addition to your access control solution.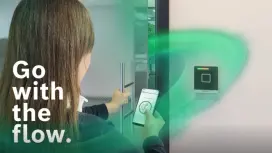 The smart addition to your access control solution
The integration of Bosch's Mobile Access solution streamlines and modernizes your access control system. It allows you to pre-assign access rights to your visitors, guests, employees, or service providers, enhancing security using a device we always carry with us – our smartphone.
Mobile Access is available in selected countries in Europe and North America. Please consult your local specialist for more information.
YouTube
Video cannot be shown without your consent
How does mobile access control work?
Mobile Access facilitates the use of the smartphone as a digital access medium to replace the classic access card or to be used as an alternative form of identification.
You can use your smartphone instead of a physical card to request access
You assign all mobile access rights centrally in your access solution
You can transmit access credentials via e-mail or QR code
You record all access events securely and centrally in your access control solution on premise
Mobile Access can be fully integrated into your current Bosch access control system, enhancing its capabilities and providing added benefits. With its compatibility and ease of integration, Mobile Access offers a smooth transition to a modernized access control setup. Mobile Access works together with our premium access control readers, equipped with Bluetooth Low Energy (BLE). A dedicated installation app, supporting both iOS and Android, is used to set up the mobile access control system.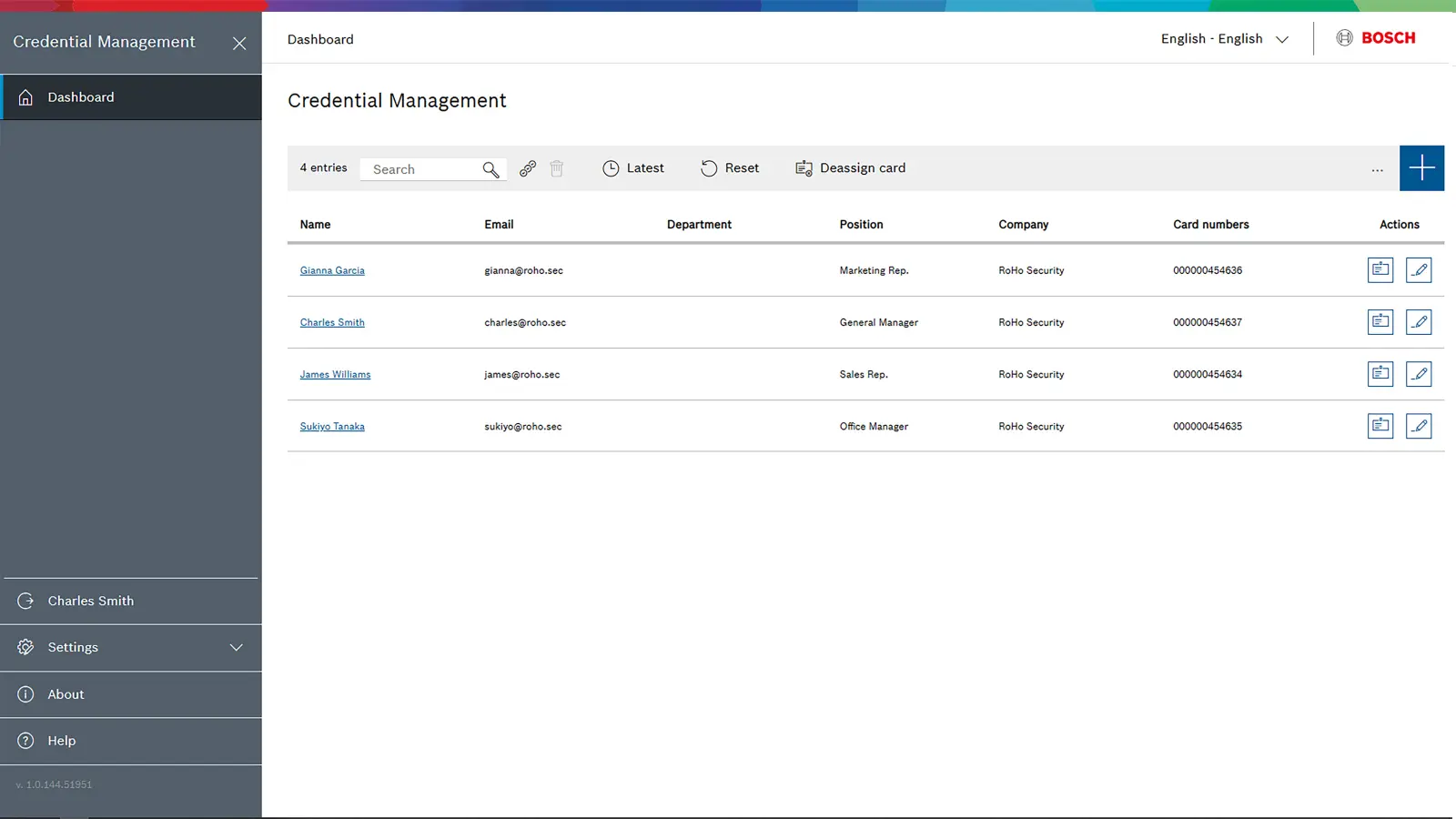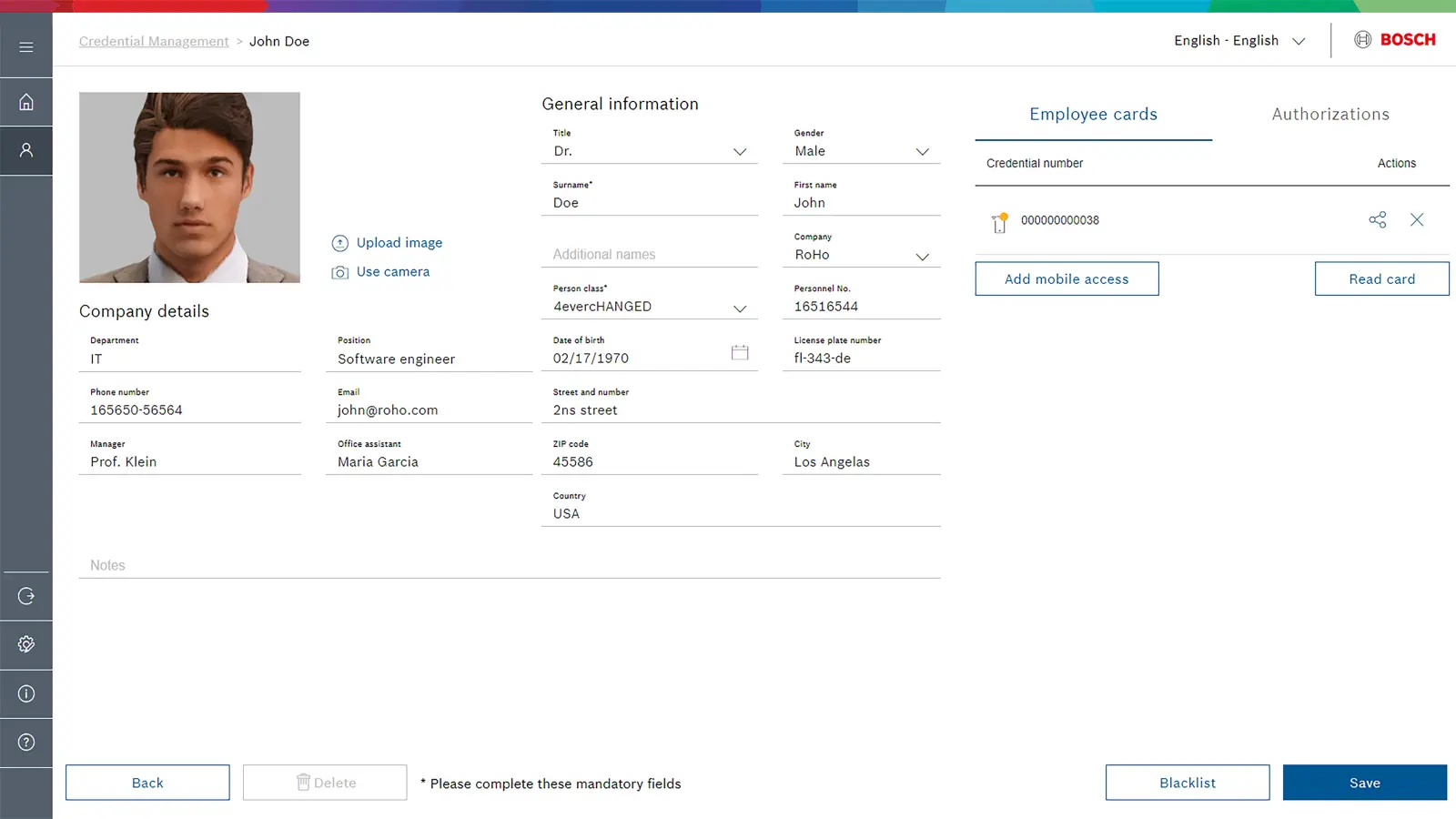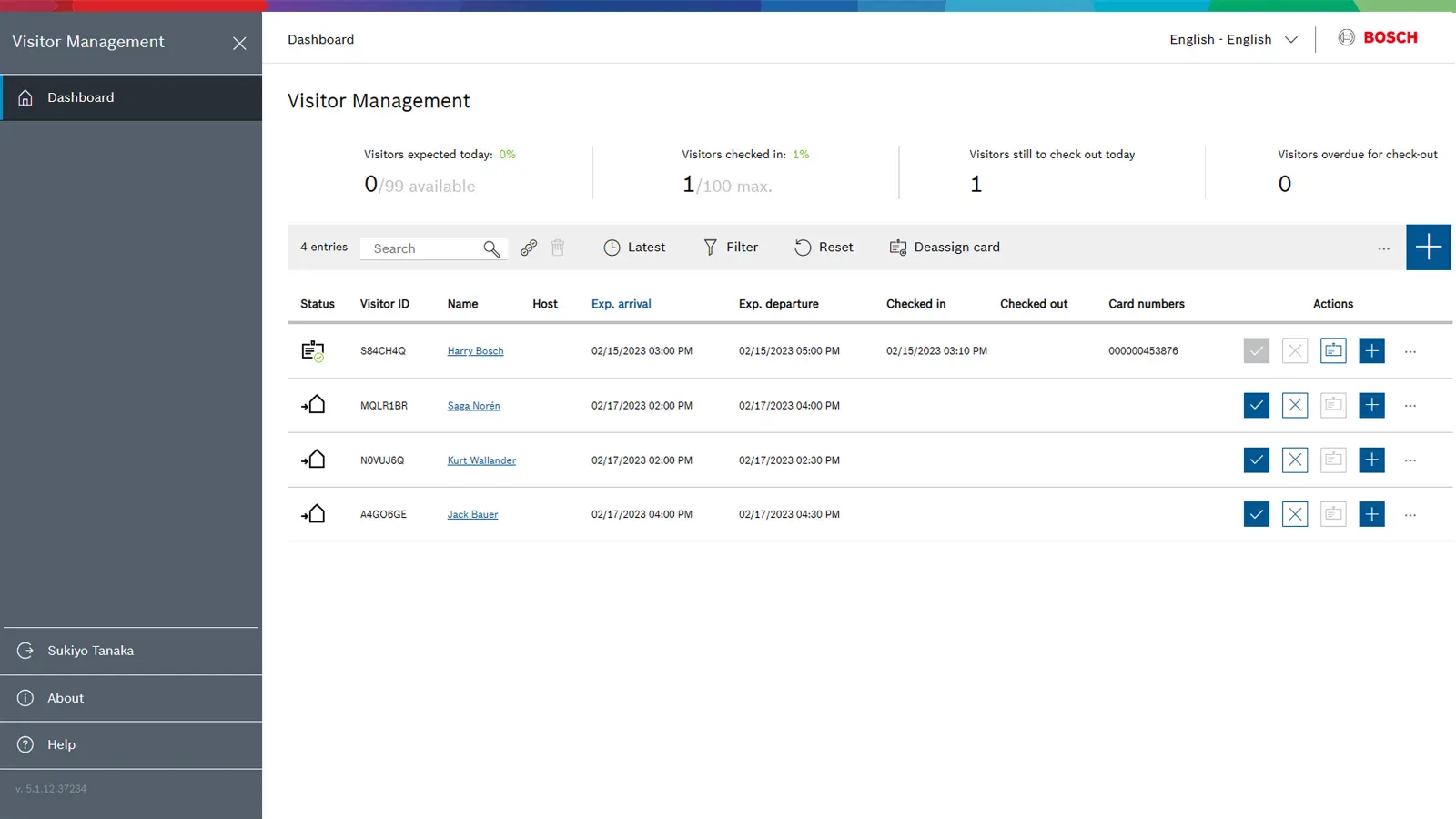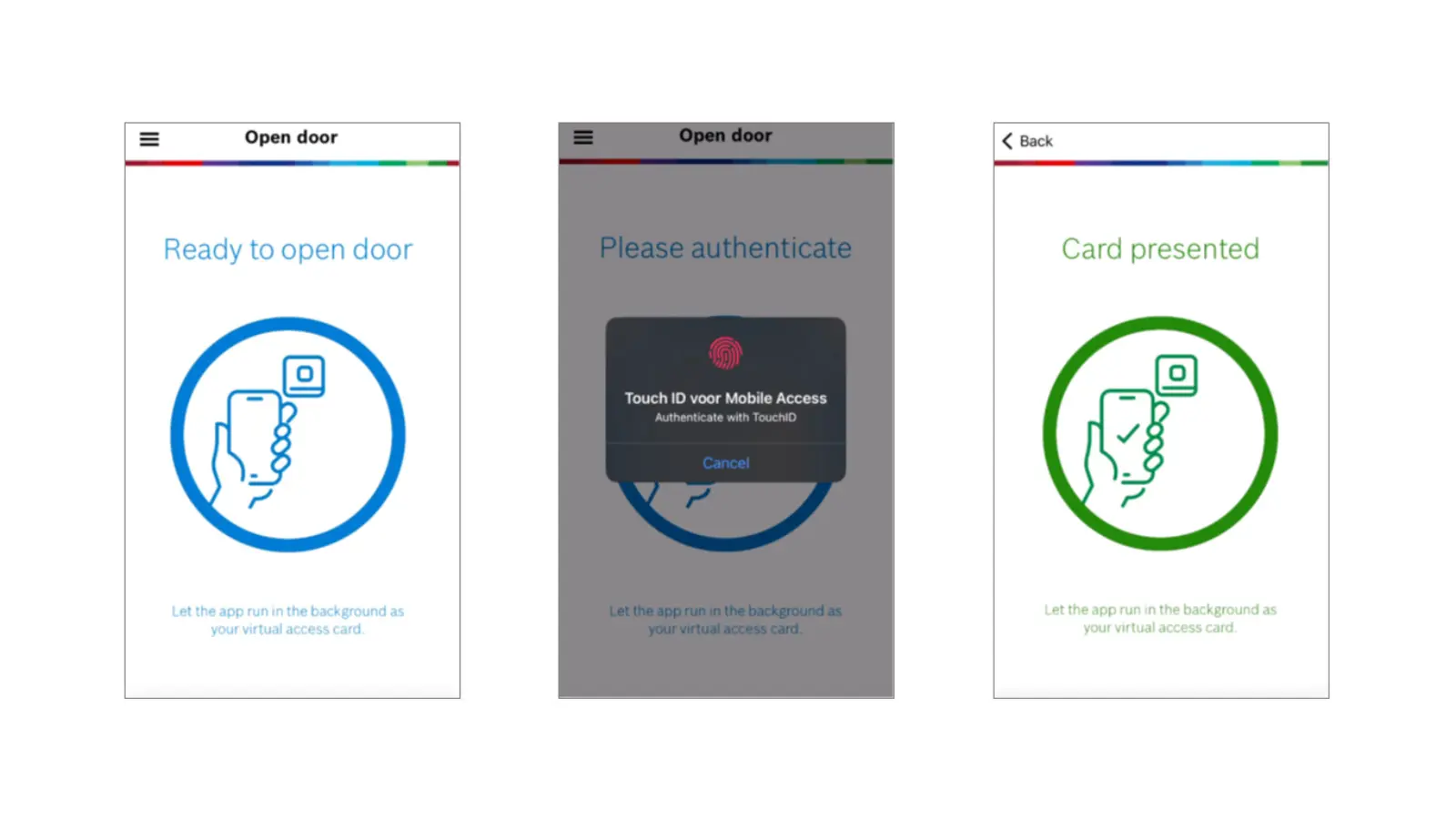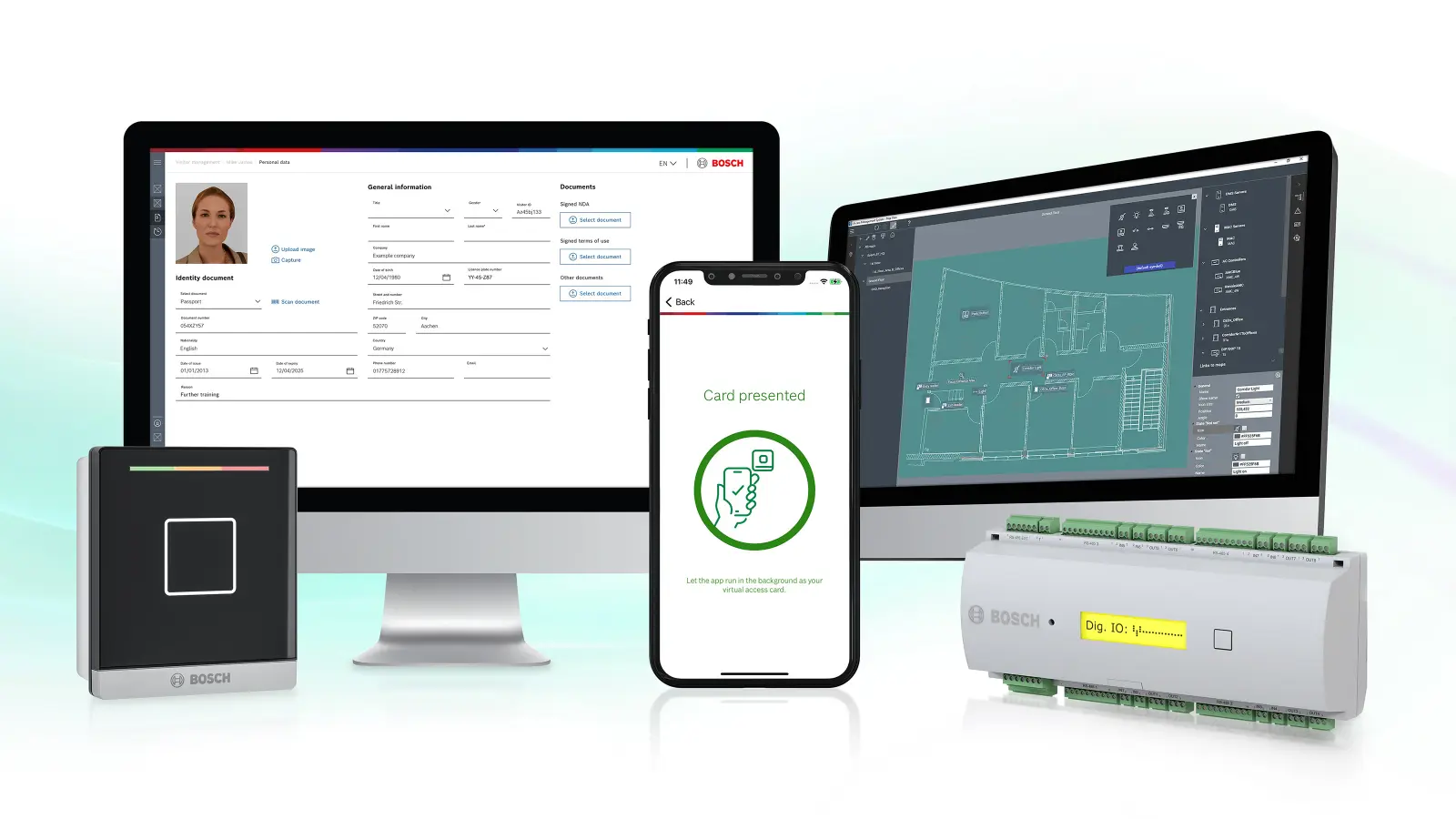 The mobile access solution is an addition to our access control software, in combination with our OSDP controller, BLE premium readers and the Mobile Access App. Optionally, you can choose to work with our browser-based visitor management software, to enhance the visiting process.
In the table below you can find the minimum required components for the mobile access control solution.
Product type
Product name
Required

Product type

Reader

Product name

LECTUS select reader with BLE

Required

✓

Product type

Controller

Product name

AMC2 RS485 with OSDP

Required

✓

Product type

Software

Product name

AMS 5.0.1 and higher or BIS-ACE 5.0.1 and higher

Required

✓

Product type

Software

Product name

Mobile Access license 5.0 and higher

Required

✓

Product type

Software

Product name

Visitor Management 5.0.1 and higher

Required
With which smartphones / technology does Mobile Access work?
In principle with any smartphone that supports Bluetooth (BLE). For compatibility of smartphone types please check the Mobile Access datasheet.
Why does mobile access offer a more secure solution than physical cards?
A smartphone is a very personal device. In case of losing the phone, people usually notice it very quickly. This is typically different with access cards. Also, only very few credential types for access cards (such as MIFARE DESFire and LEGIC Advant) are not compromised. With our mobile access solution, we use state-of-the-art, uncompromised and forgery-proof communication via X.509 certificates.
How many credentials can I create when using Mobile Access?
The number of credentials you can create depends on the purchased license package (starting with 50 and going up to 5000 credentials for large organizations). For more information, check the Mobile Access datasheet. You can reuse the credentials as often as you like. One mobile credential is similar to one physical card. Once given to a person, it is removed from the stack of available credentials. As soon as the credential is retrieved/deleted, the stack of credentials is increased by one again.
Do credentials for Mobile Access expire?
Mobile Access credentials do not expire and can be reused as often as you like.
How can I distribute a mobile credential to an employee?
Via the access management software using credential management. This is part of the mobile access license. In this browser-based front end, you can manage employee data and assign physical as well as mobile credentials.
How can I assign a mobile credential to a visitor?
Can I remove the credential from the visitor's smartphone after the visit?
Yes, the visitor can remove the credential using the Mobile Access app. The receptionist/operator can remove a credential in the visitor management or credential management software. This also removes the access privileges from the access management software. The phone will be notified, and the credential removed.
Do I need to open the Mobile Access app on my phone to connect to a reader?
No, for both Android and iOS (iPhone), the mobile app can run in the background. Once the app has been opened, the phone can remain locked when opening doors.
Is there a charge for the Mobile Access app?
The smartphone app is free of charge and available via the app store.
What software do I need for Mobile Access to work?
What is the range of the card readers used in combination with Mobile Access?
The range of the readers can be adjusted to suit specific requirements. This customization allows for a more tailored and efficient use of the mobile access system, making it an ideal solution for a variety of access control needs. Reading performance and connection distance may vary for different smartphone types and the installation environment. For more information check the Mobile Access datasheet.
How can I switch on two-factor authentication?